Before getting a new sewing machine, a lot of deliberation and consultation is done along the line of budget, simplicity, reliability, and, most importantly, the kind of material that will be sewn on the machine.
Daily, sewists work with different materials ranging from light to medium to heavy. Most sewing machines can sew lightweight materials, but heavy materials may require a particular machine which is why we will be considering the capability of one of the top brands in the industry, the Singer sewing machine.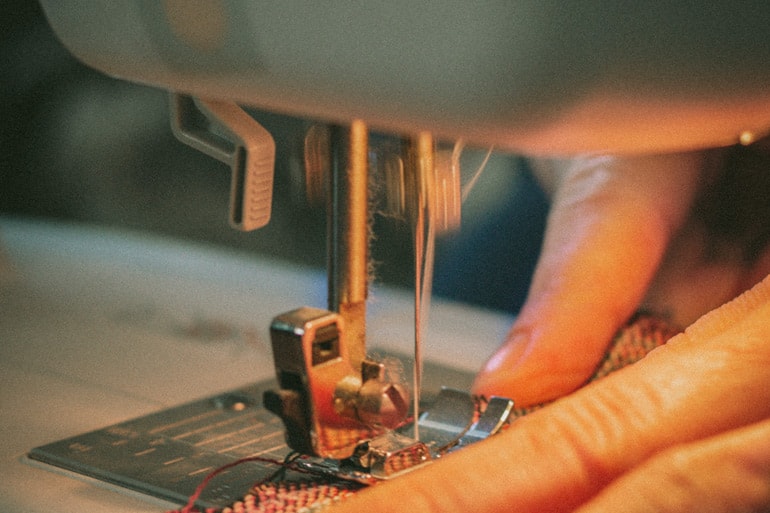 The Singer is one of the most preferred brands in the industry, and the reason for this is not so bulky: they are feature rich and capable of doing almost every sewing task. But can Singer sewing machine sew canvas? This article contains a detailed answer to this question.
Can you sew canvas on a Singer machine?
Yes, a Singer sewing machine can sew canvas.
The Singer has different sewing machine models, which means you have a variety of machine options to choose from.
If you own a regular Singer sewing machine, you may have a problem sewing with heavy-duty materials like Canvas. But if you purchased the Singer heavy-duty 4423, It will easily sew through Canvas or any other heavy-duty materials like upholstery fabrics, denim, leather, and vinyl.
Although this Singer sewing machine type might be quite expensive, it has a feature that makes it the ideal machine type for the job, such as 23 built-in stitches, 12 decorative stitches, an automatic needle threader, and a 60% stronger motor. Of course, this is not the only Singer sewing machine model that is capable of doing such heavy-duty work. Singer 4452 can also be used.
Can Singer sewing machine sew leather?
Yes, a Singer sewing machine will sew leather.
Both Singer 4423 and 4452 will sew leather materials because they are high-quality, heavy-duty sewing machines. In fact, with a slight modification to the regular Singer sewing machine, you should be about to sew through leather material and finish the leather project with ease without needing a specialized Singer sewing machine.
Can I sew Canvas with a regular sewing machine?
Yes, you can sew Canvas with a regular sewing machine.
Canvas is indeed one of the toughest materials to deal with, but the truth is, you can sew the material on a regular sewing machine. However, you have to make sure to use the right-sized needle, thread, needle foot, and seam. And it must not be frequently done.
If you are dealing with Canvas material regularly, please be advised that it would be better for you to get a specialized or heavy-duty sewing machine that will be capable of doing the job.
What kind of sewing machine is needed to sew canvas?
It might be challenging to sew canvas or leather fabrics on a regular sewing machine, hence the need for a constant search for specialized machines capable of doing the job.
It may be quite challenging for you to find a suitable sewing machine for leather or canvas material on your own, and that is why I have compiled a list of the top 5 sewing machines that can sew this rigid material.
Singer heavy-duty 4452
The Singer model is capable of delivering professional results on several projects at a very high speed.
This sewing machine model comes with 32 in-built stitch patterns, a walking foot, and a clearance plate that makes it suitable for heavy-duty projects.
Some other unique features of this machine include;
Optional walking foot
Automatic needle threader.
It can make about 1100 stitches in a minute.
Brother ST371HD
This Brother sewing machine model is designed for heavy-duty materials like canvas and leather; that this machine type comes with heavy-duty needles is an excellent testimony to the fact that they are capable of doing such heavy-duty tasks of sewing through these heavy materials.
Some of the special features of this machine include;
Versatile free arm.
Automatic needle as well as top drop-in bobbin system.
Metal needle plate.
Janome HD300
Janome HD3000 is a heavy-duty sewing machine with rich features that make it the ideal type for heavy-duty sewing materials like canvas, vinyl, and leather. It has such features like;
Adjustable presser foot.
Heavy-duty metal frame
Automatic needle threader.
Wide range of presser foot options and needles.
Janome HD1000
The Janome HD1000 is an industrial-grade sewing machine that is more than capable of handling the most rigid materials, such as vinyl, leather, or canvas. This Janome model has a feed dog system that allows quickly and evenly feeding these heavy-duty materials through the machine.
Moreover, they also have adjustable stitch lengths and tensions that will make for smooth and optimal sewing. Some notable features of this seeing machine include;
Simple front-loading bobbin and threading system.
Aluminium interior frame that is industrial standard.
The drop feed of this sewing machine has 3 piece feed dog system suitable for free motion quilting.
Rex portable walking foot
This sewing machine type is also a heavy-duty machine and is capable of sewing materials with solid construction and multiple layers of materials.
This machine is equipped with a specialized walking presser foot, capable of evenly moving the heavy material through the machine without pulling or bunching. And some of the features that make this machine suitable for heavy-duty projects include the following;
Cast iron metal construction
Walking presser foot
Do you need heavy-duty machine to sew canvas?
No, you do not need a heavy-duty machine to sew canvas fabrics. In case you want to know, regular sewing machines are capable of sewing canvas materials, which means that you do not have to use a specialized or heavy-duty machine to sew canvas materials. However, you should know that heavy-duty machines are designed for tough materials like canvas.
Therefore, if you care for your comfort and professional touch for your heavy-duty project, the best sewing machine to use is one capable of doing heavy-duty projects. The regular home sewing machine is not the ideal machine type for such.
If you need help troubleshooting your singer sewing machines, please check our previous singer sewing machine error codes guide for more info.