In this fast-paced world, no matter the industry we belong to, we shou;d always strive to be on top of every change that may be happening in our environment. Changes bring development, and every industry, at some point, will experience it. One of the latest developments in the fashion world is the Cricut machine or maker, which is used to cut different designs and patterns.
This new invention has replaced the old ways of using scissors or rotary cutters to cut out designs, shapes, or patterns with the use of the cutting machine. This machine can be used to cut all sorts of materials regardless of their thickness but what quilters are more interested in knowing is whether can circuit cut fabrics for quilting. This helpful article will help look into this.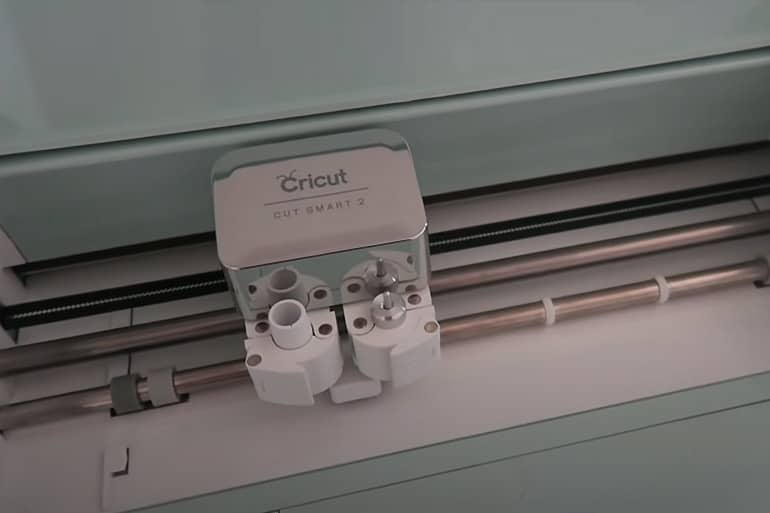 Can Cricut explore air 2 cut fabric for quilting?
Yes, Cricut explores air 2 can cut fabric. The Circut explore 2, also known as EA2, is one of the Cricut models that can be used to cut fabric for regular sewing or quilting. Apart from giving you an excellent cut with smooth edges, the process of getting it done is smooth. All you need to do is ensure to use bonded fabric blade and fabric grip mat.
You can also make use of a brayer to help remove wrinkles and also to ensure that the fabric is laying flat on the cutting surface.
Can I use Cricut to cut fabric?
Yes, you can cut fabrics with Cricut. You can cut fabrics with any of the Cricut make models. Just make sure to use a stabilizer to make your cut as clean as possible. Instead of pushing down the material, the Cricut maker will pull through it to cut.
Which fabric can a Cricut cut?
Circuit explore, or maker, can cut through several materials with different thicknesses. But the standard thickness for a Cricut Explore Air is 2.0mm, while that of a Cricut maker is 2.4mm. But that is just the standard limit, as both machines can cut materials thicker than the standard figure.
All in all, Cricut, no matter the model, should be able to cut through the following fabrics;
Canvas
Faux leather
Denim
Burlap
Duck cloth
Cotton fabric.
Wool felt
Linen
Oil cloth
Faux suede
Polyester
Flannel
Flannel
Metallic leather
Silk
Can Cricut cut fabric patterns?
Yes, you can cut fabric patterns with Cricut. Not only can you use your Cricut machine to cut fabrics, but you can also use them to cut out patterns or designs from your fabric. Just make sure to abide by the standard procedure that guides the use of Cricut for such a purpose.
Can Cricut cut fabric for sewing?
Yes, Cricut can cut fabric for sewing. When it comes to sewing, one of the best ways to have time and energy is by cutting the fabric with a Cricut machine. This incredible cutting device is usually fitted with rotary blades that can cut fabrics into desired sizes in a matter of seconds.
Why cut fabric on a Cricut?
Cutting fabric with Cricut will give you an accurate and clean line without having to worry about the pieces not matching up.
Depending on the capacity of your Cricut machine, you can cut multiple fabric layers with no stress.
Using Cricut for cutting saves a lot of time and therefore allows sewists to complete sewing in no time as they can easily move on to other parts of the project while the device cuts the fabric.
You can also use the Cricut machine to mark the fabric by using the Cricut fabric marking pen.
Which Cricut is best for quilters?
Many Cricut models can be used for quilting in the market today, but the most commonly used and widely dubbed as the best by users are the Cricut maker 3, Cricut maker, and Cricut Explore 3.
Note that these three recommended models have pros and cons, so it is advisable that you read through them to determine which one aligns best with your plan. And also, you should know that no promotion is intended for any brand.
How to cut fabric with Cricut maker or Explore
Cutting fabric with Cricut Explore
Turn the fabric to its back and add the bonding type suitable for this task.
If you have any liner sheets on the fabric, remove them and put the bonded side of the fabric down on the fabric mat. You can secure it with a brayer if necessary.
Affix the fine point blade to the circuit machine and add the mat to the machine afterward, then start cutting your design.
Remove the pieces from the mat using tweezers.
Cutting with Cricut maker
Usually, you don't need a bond for this type of machine, but if your project is applique, you may need to add a bond as the first step.
Lay the fabric on the mat without the liner then you can cut the fabric either face up or down. If you choose to go with the latter option, before cutting, ensure to zoom your image in the Cricut design space and hold the fabric in place with a brayer.
Cut the fabric with a rotary blade. To do this, select " edit tools" in the Cricut design space and change the default settings to the rotary blade.
Load the mat into the machine and start to cut your design.
Use tweezers to remove your fabric pieces from the mat when you are done.
How to cut fabric shapes with the Cricut Maker
Lay your fabric smoothly on the mat. You can use a brayer to flatten the material.
Put the mat into the machine.
If you are working with a difficult design, make use of a water-soluble fabric pen to trace your pieces.
Preview your design on the mat on the screen.
Set the material in the design space and press go.
Remove excess materials from the cutting mat.
Remove the shapes from the mat using broad-tipped tweezers.
Do I have to bond all my fabrics before cutting on my Cricut?
No, you don't have to always bond all your fabrics before cutting on your Cricut.
If you are working with a Cricut maker, you don't have to bond your fabric before you can cut your fabric. This Cricut model has a rotary blade that can cut fabrics without even bonding them.