Quilting involves piecing several layers of fabric together to be able to provide the level of comfort they are known for. Using a needle to stitch through these layers can be difficult, and that is why quilters always prefer to make use of quilting hoops. A quilting hoop is a stitching tool specially designed for making stitches while piecing more than one layer of fabric together.
This stitching device has become a very handy tool for quilters because of how useful it is, and since it is majorly used for stitching, people usually wonder if it can also be used for every other stitching project, like embroidery. If you used to wonder can I use a quilting hoop for embroidery? This article is for you because it contains all you have to know.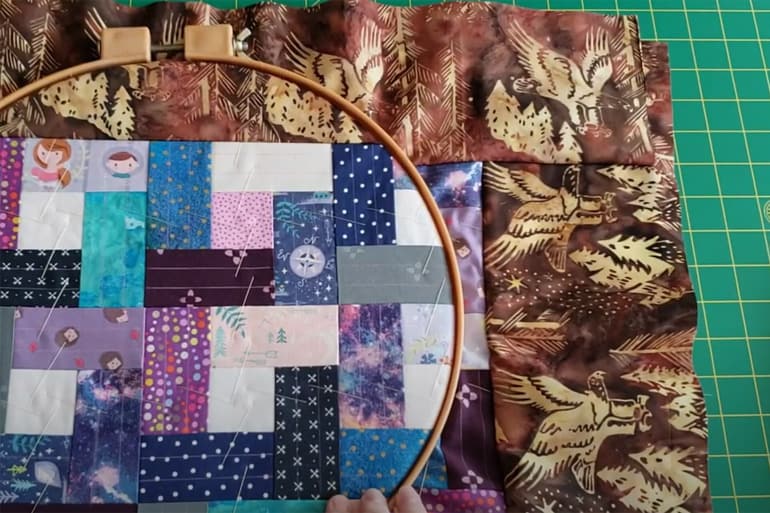 Can you use a quilting hoop for cross-stitching?
Yes, you can use a quilting hoop for cross-stitching. A quilting hoop makes stitching through the layers of quilting easy. Using the tool for your embroidery project will also make the process easier and faster. But one thing is, in as much as the device will help your project, it is not an essential tool for embroidery.
Can you use an embroidery hoop for hand quilting?
Yes, one can use an embroidery hoop for hand quilting. Hoops that are popularly used for hand quilting and embroidery hoop are very similar as they both have two-part frames that can keep the two layers of quilting fabrics together. At the same time, the material is being stretched to create uniform tension for stitching. In essence, using an embroidery hoop for hand quilting feels as if you are using a regular hand quilting hoop.
Do I need a quilting hoop?
No, you do not need a quilting hoop. Although the fact remains that a quilting hoop will help your project as it can help you to keep the layers smooth and keep them right for hand quilting. But the truth is, they are not a must-have tool in the quilting or stitch-making tool kit; they can always be avoided as several options can be used in their place. Even your regular sewing frame can be used in as much as you are using the appropriate tension.
Do you need a hoop for quilting?
You don't need a hoop for quilting. A hoop is an optional tool in quilting, and therefore, you only need to use them some of the time. However, using a hoop for your quilting project will make your work faster and more convenient. And for this reason, many people believe it is only possible to make quilting with a hoop, which is not true.
Do you use a hoop for big stitch quilting?
No, you don't need a hoop for big stitch quilting. When quitting, your hand quilting method will determine the type of thread to use, and this can also play a major role in determining how big your stitching will be. If you want your stitching to appear loose and organic, then definitely, your stitching must be big, and you can't use a hoop for this kind of project.
Is it necessary to use a hoop when quilting?
No, it is not necessary to use a hoop when you are quilting. Hoop is an optional quilting tool, so if you don't feel the need for them or you have a better alternative (there are several other options), you can definitely avoid using them.
What is the largest quilting hoop?
You will find quilting hoops in various sizes, but the largest quilting hoop size you will find is the 5×7 hoop.
What kind of hoop for hand quilting queen-size quilt?
You will see hand-quilting hoops in various sizes, but any hoops that are to be used for queen or king-size quilts must be at least 11 inches in size. Since this is not about the quality of the hoop, hence, any of the various hoops will work for your queen-size quilt project as long as they are as large as 11 inches.
What's the difference between a quilting hoop and an embroidery hoop?
When it comes to the comparison and differences between quilting and embroidery hoop, they are almost the same. The only thing that may seem as a difference between them is the depth of the two stitching tools.
The depth of a quilting hoop ranges from 3/4 inch to 1 inch, while that of an embroidery hoop is usually about a half inch. Since quilting hoop has a larger depth, they can hold heavier and layer quilting fabric layers.
How to hoop quilt for machine embroidery
Load your bobbin and ensure that it is fully loaded so that the thread will not be used up in the quilting process. Then you thread the machine and make sure the machine tension is properly adjusted.
Carefully select your fabric and cut out blocks of the same sizes of 2 to 3 different colors and lay your blocks afterward over the hoop's bottom frame and place the upper frame over it. After that is done, the screw of the hoop should be tightened and placed on the embroidery machine table. Create a border in the block by meaning a straight line stitch.
Select a design for your project: you can use the one that came with your embroidery machine or scan through the internet for design ideas. For the perfect outcome, the designs can be adjusted to fit the blocks, and you can also position the design inside the frame. You can adjust the position of the needle by touching any area on the screen.
Start embroidering but before you do, you need to, first of all, determine where your design will end. If your chosen design will be need more than one thread color, all you have to do is to lift the pressure foot and switch to another thread color once a thread is used up.
Join the blocks together in quadrants or rows before joining the remaining segments to complete the quilt top using the machine. Press the quilt top afterward.
Join the quilt backing and batting to complete the quilt and baste all three layers of the project to keep them from frizzing and bunching up.
Quilt the layers of the fabric sandwich by stitching in straight lines or with a free-motion quilt.
Bind the edges of your quilt to secure them and give them a smoother finishing touch.