In the fashion world, we have different fabrics that we use for different projects, and this is what makes our job easier and even more convenient. That is why as a quilter, it is always best to make use of quilting fabrics. But in some cases, you may have this quilting fabric in excess, and when you find yourself in such a situation, what do you do with them?
This is usually a bone of contention as most quilters find it difficult to find other use for their excess quilting fabrics asides from quilting. As you may have rightly predicted, most quilters would resolve to use their excess quilting fabrics to make clothes. But because they are uncertain, they usually ask can I use quilting fabrics for clothes?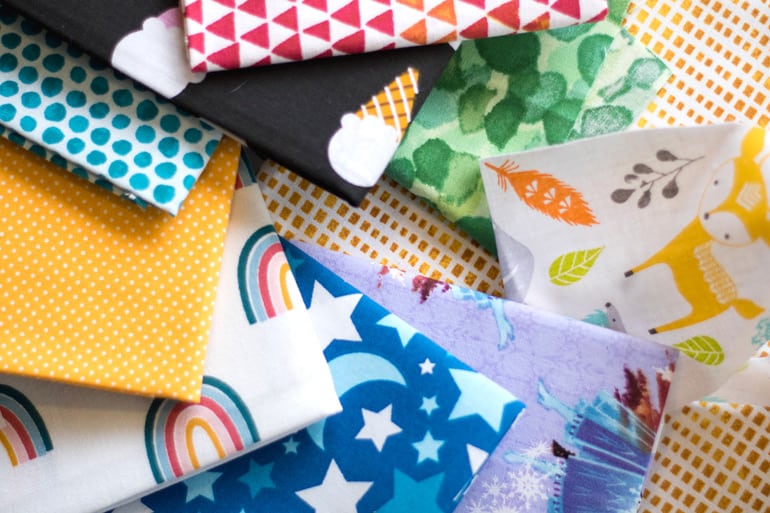 This helpful article takes a broader look into quilting fabrics and also helps to provide an answer to this question.
Can you use quilting cotton for clothing?
Yes, you can use quilting cotton to make clothes. When you have purchased excess quilting fabric for your quilting project, or you lost interest in the intended project and decided to embark on another one, one other project you can explore is making clothes from quilting fabric in as much as you know what to expect and to confront any possible challenge.
Firstly, you need to know that quilting cotton is usually crisper and has a stiffer drape than regular fabric, so it would be ideal for structured loose-fitting outfits. Also, one more thing you should consider about using quilting cotton for cloth making is pattern pairing. For instance, it isn't advisable to pair quilting fabric with a stiff drape with flowy fabric.
How quilting fabric is made
Quilting fabric is made with the use of multiple rollers for printing different colors on the fabric. These rollers are aligned to prevent the final product from smudging or getting blurry. Then a sample is made after setting the design.
This process can be done manually by using a squeegee to apply each color through a screen. Once the sample is authorized, then the fabric will be printed by rolling the material on a conveyor belt where different ink is applied through a chain of ink vats one after the other through a screen.
To ensure precision, a rubber is later placed under the fabric to prevent the material from shifting during printing.
Is quilting cotton good for clothing?
Yes, quilting cotton is suitable for clothing. Typically, people have different opinions regarding the suitability of quilting cotton for dressmaking. Mostly, this argument springs from the durability of any apparel made from quilting cotton. Unknown to those people with opposing opinions, the durability of such apparel depends on the quality of the quilting cotton used. If you use good quality material, then the final product should be durable.
Can you use quilting threads for hand-sewing clothes?
Yes, you can use quilting threads for hand-sewing clothes. Know this: any spool of thread that " machine quilting" inscribed on it can be suitably used for hand quilting or sewing.
This inscription is majorly to tell users that the thread is not waxed or gazed at. So, if you see these words on your quilting thread, know that they can also be used for hand-sewing clothes.
Can you use quilting fabric for dressmaking?
Yes, you can use quilting fabric for dressmaking. If you are a lover of cotton fabrics, consider trying out quilting fabrics for your next project. This fabric type is usually made with 100% cotton and, therefore, will give you the taste of regular cotton fabric.
Moreover, this type of fabric has a high sheer number of good quality patterns that are available in different designs, which makes them more suitable for dressmaking.
What makes quilting fabric different?
Quilt fabric is different from other fabric types (especially cotton, which is the closest alternative) in respect of its weight and weave. The weight and weave of quilting fabrics are designed in such a way that they will be suitable for quilt tops and piecing precise blocks. They are not designed to be too heavy or loosely woven to make it easy for quilters to work with them.
Can quilting fabrics be used for curtains?
Yes, you can use quilting fabrics for quilting. Quilting fabrics are medium weight, and this is the ideal weight for the curtain. Both lightweight and medium-weight fabrics give room for a delicate and elegant look. And with the unique pattern of quilting fabrics, you have a better chance of enhancing your interior outlook.
Can I make a skirt with quilting cotton?
Yes, you can make shirts with quilting cotton. Quilting cotton can be used to make skirts, but the suitability will depend on the type of skirt that is to be made with the fabric. For instance, quilting cotton will not be suitable for making tight-fitting skirts or small maxi skirts. Rather, they are more appropriate for making slightly structured or loose skirts.
Is quilting fabric different from other fabrics?
Yes, quilting fabric is different from other fabrics. Quilting cotton is different from common fabric cotton, which has almost similar properties as them and every other property. Compared to most other fabric types, quilting cotton is stiffer and bleeds less, shrinks less, and doesn't have chemicals like every other fabric type.
Is quilting fabric thick?
Yes, the quilting fabric is thick. Quilting fabric is not a fabric type that can be categorized as heavy or lightweight fabric; they are designed to be thicker than lightweight material but lighter than heavy material. So, it can be said that the thickness of the quilting fabric is average.
Does quilting fabric fray?
Yes, quilting fabric frays. Fraying is something you may have to deal with while quilting. Suppose you need to learn the best way to prevent such from happening, as it is a common problem quilter face during quilting projects. An excellent way to prevent your quilting fabric from fraying is by preparing the materials' raw edges before washing or using fabric tape.
Can you embroider a quilting fabric?
Yes, you can embroider on quilting fabrics. Making embroidery on quitting fabric is a good way to give them an extra touch of design. However, you may need to use the right needle to make your job easier and faster. For a snooty run, use a needle of either size 11 or 75/11.