Upholsteries, whether indoor or outdoor, are usually exposed to elements that can cut short their expected lifespan daily. The reason why you should be very careful when selecting the type of fabric to use for them. Typically most homeowners would use microfiber fabrics made from polyesters because they are durable and resistant to stains, water, and fading.
However, this kind of upholsteries can be expensive, which is why people often look for cheaper alternatives. Although ordinarily not meant for upholsteries, people always want to know, can quilting fabrics be used for upholstery? What fabrics are good for upholstery? These questions and some others will be answered in this overview.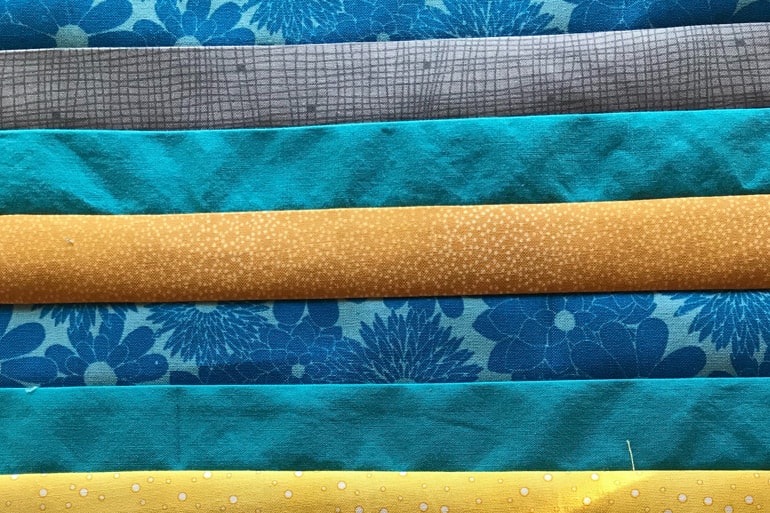 Can a quilting fabric be used for upholsteries?
Yes, you can use quilting fabrics as your upholstery material. Although quilting fabrics are not meant to be used for upholstery, they can be used as an alternative to typical upholstery fabrics.
However, note that when you are to choose fabric for upholstery, one of the first factors that must be considered is durability. Therefore, if you have decided to use quilting fabric for your upholstery, it must be a good quality cotton fabric.
What fabrics can be used for upholsteries?
Wanna know why most homeowners are usually confused about the fabric to use for their upholstery?
The main reason for this is that there are so many options in the market, with each having distinctive pros and cons. You will learn details about these materials below, as well as the pros and cons of using them.
Leather fabrics
Leather is a natural fabric that can provide you and your family with a level of comfort when used for upholstery. Not only that, but they also look appealing and can withstand the stress from households with pets and children.
Pros
They are very easy to clean
They are scratch resistant.
It doesn't wear out easily.
Cons
Polyester
Unlike leather, polyester fabrics are made of synthetic materials, but when used for upholsteries, they are usually very soft and comfortable. Also, they can be used to complement any other type of synthetic or natural fabrics to make them more durable.
Pros
They are very easy to clean
If properly maintained, they can last longer
They come in a wide range of appearances, thereby providing homeowners varying options that can blend well with their interior designs.
Cons
Lighter polyester fabrics get stained easily.
The complementing quality of this fabric is not true for all fabrics as their pulling problem increase when paired with wool fabrics.
Olefin
Olefin fabric is another synthetic fabric option you can choose for your upholstery. Olefin material is petroleum based and looks like wool, but they are very durable. They have no known major weaknesses and are suitable for upholsteries that will be subjected to heavy wear.
Pros
They are made of melted plastic pellets, and therefore, they are resistant to wet conditions.
Olefin fabrics are highly durable.
Cons
They can be easily affected by heat, oil, and light.
This kind of fabric exists in limited varieties, hence the reason they are seldomly used for indoor upholstery.
Rayon
Rayon is another type of fabric made from old chip fibers. This type of fabric is usually cheap and complements other fabrics well. They are very durable and resistant to mildew and moth but vulnerable to wrinkles and scratches and can be highly flammable.
Pros
They are very cheap
They are durable
They are resistant to mildew and moth and very comfortable.
Cons
They are vulnerable to scratches and wrinkles
Wool
Wool is a natural fabric that responds pretty well to dye and other treatments. Wool offers homeowners a variety of looks to choose from, but they can be very expensive compared to some other types of fabrics. Wool fabrics are durable and resistant to soiling, pilling, fading, and wrinkling. 
Pros
They provide comfort when blended with other fabrics.
They do not require any sort of chemical treatment and are fire resistant.
They are eco-friendly.
Cons
They are very expensive compared to most other fabrics.
Best fabrics for upholstery
As said earlier, all fabrics come with their pros and cons, so choosing the best is only a matter of choice. However, when shopping for fabrics, always make fabrics made with natural fibers your top choice. This is because they are generally more durable.
Also, it will help to have in mind that you are looking for a material that will have the following qualities: durable, clean easily, and resistant to fading, wear, and soiling.
Can you use any fabric for upholstery?
No, you cannot use just about any type of fabric for your upholstery. Choosing a fabric for upholstery is a decision that has to be perused before finally making a choice.
You have to consider your choice against durability, cleanability, resistance level, and some other factors.
Can you use any fabric for quilting?
No, you cannot use any type of fabric for quilting. The best fabric for quilting is any material that is made of 100% cotton. In the absence of this material, you can make use of any available choices, provided they have a thread count of a minimum of 60 squares.
Fabric with this quality will have a fine texture, be very smooth, and last longer. Any fabric devoid of this quality is not suitable for quilting.
Can cotton fabrics be used for upholstery?
Yes, cotton fabrics can be used for upholsteries. Cotton is one of the popular, if not the best, choices for upholstery.
The reason for this is very obvious, they are resistant to fading and do not wear out easily. Not only that, but they are also breathable. That is, they allow an easy pathway for moisture and heat from the skin.
Differences between upholstery fabric and regular fabric
Regular fabrics are usually medium weight, while a typical upholstery fabric is stiffer, heavier, and thicker.
Regular fabrics have patterns either printed or embroidered on them, while the patterns on upholstery fabrics are created through the weaving process and therefore are not susceptible to wear and tear.