A rag quilt is a quilting type that is characterized by visible seams that fray when they are being washed. This type of quilt is made with strips or squares and with seams that are clipped at regular intervals to allow fraying. A rag quilt is a quilt style popularly used for memory quilts, art quilts, play rugs, and blankets. 
Rag quilts can come in varieties of shapes and sizes, and in most cases, they are made of flannel shirts, flannel sheets, and preloved clothing. But can you use cotton fabrics for a rag quilt, just as is the case with the regular quilt? This helpful article provides an elaborate answer to this question as well as providing general knowledge about what a rag quilt entails.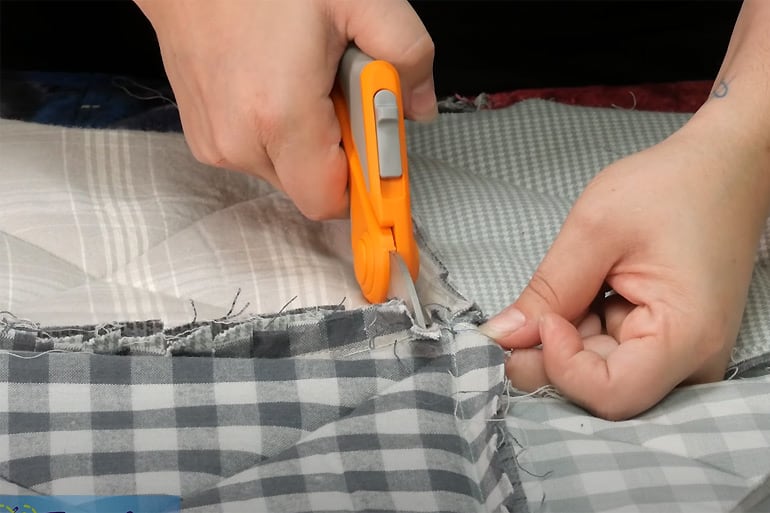 Can I make a Rag quilt with cotton fabric?
Yes, you can use a Rag quilt for cotton fabric. A rag quilt is one of the easiest quilting styles to make, and its convenience is not only limited to the process alone: the fact that you can use different kinds of materials for the project is also a good start for quilters. For rag quilts, you can use Flannel, Minky fabric blend, and cotton fabric.
What fabrics can be used for Rag quilts?
As said earlier, Minky fabric blends, Flannel, and cotton are all good choices for making Rag quilts. But the best and most widely used fabric for Rag quilts is woven cotton and Flannel.
Does a Rag quilt need 3 layers?
Yes, the Rag quilt needs 3 layers. For a Rag quilt, the number of layers can be 2 or 4, depending on what you desire. But most of the Rag quilts you see around are usually made of three layers so that they can be able to provide maximum comfort.
How much fabric is needed to make a Rag quilt?
The fabric yardage you are going to need to make a Rag quilt depends on its size. But as a general rule, you may need at least 4 yards of your preferred fabric for the top, 4 yards for the batting, and 4 yards for the back of the quilt.
How many layers will you need for a Rag quilt?
Generally, a Rag quilt usually has 3 layers (the top, batting, and the back), just like every other quilt style. But you can also use 2 or 4 layers depending on the design you are working with.
How can I wash a Rag quilt for the first time?
Before washing your Rag quilt, first of all, remove all the shredded fibers by shaking the quilt.
Toss it into the washing machine and wash on a cold cycle, then pour 2 cups of vinegar to set the color instead of using detergent.
Once the wash cycle completes, dry it inside a dryer.
Can you make a Rag quilt without batting?
Yes, you can make a Rag quilt without batting. If you want a lightweight quilt, you can make a rag quilt without the batting to reduce the heaviness of the fabric. If you prefer a heavy quilt but one that will not be too heavy (if you know what I mean?) Then you can use two heavy cotton fabrics, one for the top and the other for the back, without batting.
What is the best fabric for a Rag quilt?
The best fabric to use for a Rag quilt is either Flannel or woven cotton. In fact, for the best result, it is best to combine these two fabrics in a quilting project. Use woven cotton for your quilting top and Flannel for the back of your quilt.
Steps to making a rag quilt
The first step in making a Rag quilt is washing your fabric if you know it is likely to shrink. After that, you can cut your fabric into 10-inch squares.
Line up the quilting blocks to your preferred rag quilt style. Once you've assembled the blocks to your desired pattern it style, hold them together with safety pins.
Sew each of the blocks to the rag quilt with diagonal seams around the block to form an X. If you are a beginner, you can draw an X on each of the blocks to keep your seams straight. Design your quilt afterward based on your block layout.
Sew the rag quilt block row together with equal seam allowance as you have used for the blocks. When you are sewing thick layers, ensure make sure to press on the seams to achieve the best result.
Cut the seam allowance with ragging shears or scissors. The cut shouldn't be more than a 1/4 inch to 1/2 inch wide.
Wash your rag quilt afterward with some old towels to help reduce the effect of agitation.
Do Rag quilts have to be Flannel?
No, Rag quilts do not have to be Flannel. It is indisputable that Flannel is one of the best fabrics for Rag quilts, but that does not mean you always have to work with Flannel fabrics all the time. You will find an alternative in Minky, fleece, or cotton. The only downside to using a Minky or fleece fabric is that even though they may make your work extra soft, the fraying effect may not be as much as when you use Flannel or cotton fabric.
Are rag quilts easy to make?
It is easy to make Rag quilts. Rag quilt-making does not involve a complicated process. All that is required of you is just simply to cut, sew in straight lines, and do more cutting. However, you should know that just like every other skill, rag quilts also require practice. So even if you are having a hard time at first, it will only take a few trials to start getting things right.
Can I mix cotton and Flannel in a rag quilt?
Yes, you can mix cotton and Flannel in a rag quilt. Flannel and cotton fabrics are usually combined to make a lightweight Rag quilt. In this case, Flannel is mostly used for the back of the quilt, while cotton is used for the top of the quilt.