Quilting is not a type of project you can say outrightly that it is a simple task to pull off. Although with more practice, you get more comfortable, and the whole process may become convenient and easy for you.
But when you carefully select your material and make use of quilting cotton, you can boast of how easy the process is even though you are a first-timer. Quilting Cotton is a fabric type that is designed especially for quilt making. This fabric is a popular choice among quilters because it is easy to cut, sew and use in general.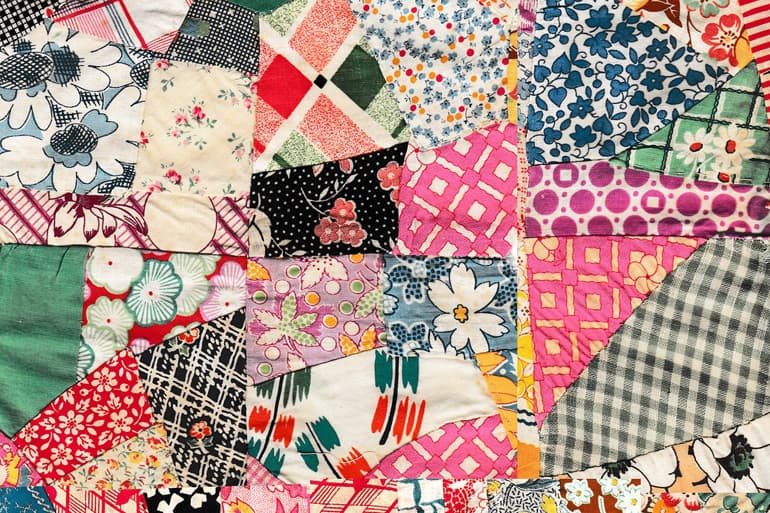 Yet, despite the fact that quilting cotton is mainly used for quilting, people often still wonder if it can be used for other purposes and ask questions like can you use quilting cotton for clothing? Is it good for shorts or skirts? This helpful article answers these questions in detail.
Can I use Quilting cotton for clothing?
Yes, you can use quilting cotton for clothing. Although quilting Cotton is not a fabric type, you would start looking for it in the fabric market when you want to sew apparel. If you already have them at home and want a better way to utilize them, making clothes out of them will make an excellent choice for you.
The only problem you can have with using this kind of fabric for dressmaking is that they usually get crisper, and its drapes are stiffer than the regular fabric used for making clothes.
Hence, they can not be suitably used for making all kinds of clothes, and users must learn the best pattern to pair with the fabric.
Is quilting cotton good for clothing?
Yes, quilting cotton is good for clothing. Quilting cotton may not be a typical fabric widely used for clothing, but once you get the pattern paring right and can figure out what style will be suitable for the natural stiffness and crispness of the quilting cotton, you will be able to make apparel that is worthy of admiration.
Also, when making clothes with quilting cotton, make sure it is of good quality because the durability of the final product depends on the quality of the quilting material.
What is quilting cotton used for?
Ordinarily, quilting cotton is majorly used for quilting. But the fabric can also be used to make other clothing items like skirts, dresses, clothes for kids, structured tops, lounge pants, etc.
What can I make out of quilting cotton?
In the past, the usefulness of quilting cotton was limited to making quilting alone, and that is because, unlike now, you can easily get lightweight quilting cotton; quilting cotton at the beginning was made to be medium or heavy.
These new designs of quilting cotton have made it possible for quilting cotton to be suitably used for making several projects like clothing, fabric tray, heart zipper pouch, free dog bandana, gingham aprons, Placemats, sunglasses cases, harvest aprons, pillowcases, plastic bag holder, bowl cozy, Tote bag, small zipper pouch, pencil pouch, fat quarter skirts, and many others.
Can I make a skirt with quilting cotton?
Yes, you can make a skirt with quilting cotton. The skirt is one of the several sewing projects that can be done with quilting cotton, but because this type of fabric does not drape well and is usually crispy, there is a limitation to the type of skirt that can be made with them. This type of fabric is more suitable for making loose and slightly structured skirts, so if you intend to make a tight-fitting or long maxi skirt, the result might be different from what you want.
Is quilting cotton good for shorts?
Yes, quilting cotton is good for shorts. Quilting cotton is suitable for several projects other than quilting, but the best clothing items you can make with them are shorts. You may want to know why? This is because quilting cotton is stiffer than regular fabric and does not drape like most other fabrics. So, the ideal type of cloth that can be made with this type of fabric would be one that will not require a draping fabric and can utilize the stiffness of the material.
Quilting cotton clothing pattern
Typically, you should use something other than quilting cotton for making clothes because they are not designed for that purpose. But then, as a designer, you do not have to limit your creativity, so utilizing your quitting cotton for other projects wouldn't be a bad idea. However, the kind of pattern that you pair with your quilting cotton can influence the outlook of your final product, hence why I am suggesting these 5 patterns.
Ginger A-line pattern
Kalle shirt and shirtdress pattern
Orla's dress pattern
Betty's dress pattern
Jamie Pajama Bottoms.
What's the difference between quilting cotton and apparel cotton?
Quilting cotton is usually made of 100% cotton, while apparel cotton can be a blend of natural and synthetic materials.
Quilting cotton is often designed to have medium weight, while apparel cotton can be of any weight.
Quilting cotton will usually have a plain weave, whereas apparel cotton can come in a variety of weaves.
It is easier to use quilting cotton compared to some apparel cotton which is usually very difficult to work with.
Quilting cotton is susceptible to wrinkles and, therefore, needs to be ironed. Apparel cotton, although it may also wrinkle, is far better than quilting cotton in this case and therefore requires less ironing.
Quilting cotton doesn't stretch at all, whereas some apparel cotton can stretch.
Most quilting cotton has a width of 44 inches, while the width of apparel cotton may range from 36 to 60 inches.
Should I wash my cotton fabric?
Yes, you should wash your cotton fabric. Both apparel and quilting fabric may be different on certain levels, but they have something in common: both are prone to shrinkage. So to have accurate measurements for whichever project you want to embark on, you should wash your cotton fabric before you start sewing or quilting.