A wedding dress is probably the most important thing for a bride on her special day but finding the best one is quite a messy job as well. When you start looking at the options for your wedding dress, you will get to know about many new materials and fabrics that are used in their design, crafting, and manufacturing.
Chiffon, tulle, and organza are some of the most prominent and widely used fabrics for weddings or any other significant event.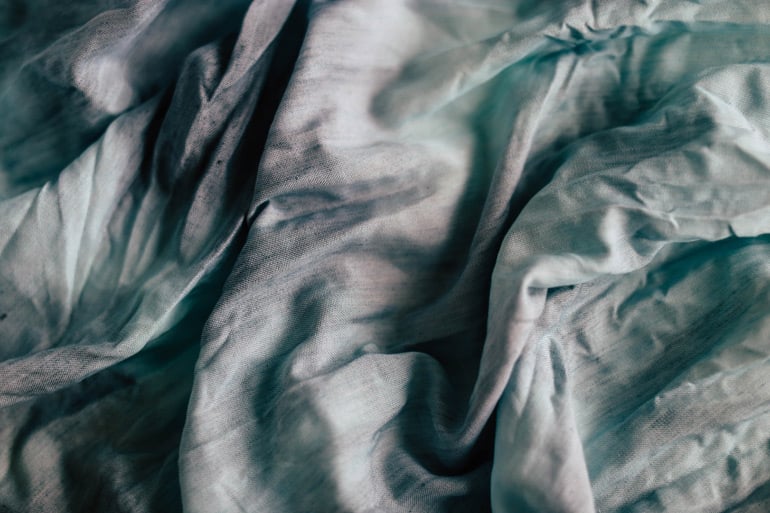 If you look at these fabrics through your digital screen or even when you look at the actual dress for the first time, it is almost impossible to tell the difference between chiffon, tulle, and organza. As soon as you know that these three fabrics come at the top of the list when you are considering a wedding dress or a formal gown, you may need some guidance.
Continue reading this article as it will provide you with all the key points and related information that can help you decide which fabric is best for you.
What is chiffon?
Chiffon is one of the most popular fabrics which is majorly made from silk. It has been used for clothing for centuries. It is widely used in countries with hot climates because the silk has cool characteristics which make it a great option to wear in high temperatures.
Chiffon is also regarded as a luxurious garment and because of its costly production out of silk, it is one of the most expensive fabrics as well. Now people around the world name any fabric as chiffon that is semi-transparent, comfortable, and gives a cozy feel.
No doubt chiffon is an attractive fabric to wear and there are many other positives as well but just like there are pros, there are cons as well and let's point them out.
Pros of chiffon
Soft texture
Doesn't wrinkle easily
Remain in shape
Weather resistant
Attractive
Cool
Lustrous
Hold color firmly
Beautiful drape
Lightweight
Semi-Sheer
Cons of chiffon
Delicate
Can snag and fray easily.
Difficult to sew.
Difficult to store and maintain.
A bit expensive.
Uses of chiffon
Scarves
Blouses
Evening wear
Nightgowns
Sashes
Lingerie
Ribbons
Wedding dresses
Light curtains
Sarees
Dupattas
Home decor
What is tulle?
Tulle is an extremely lightweight fabric that looks almost like mesh because the fibers are woven loosely to leave small spaces between threads. The fabric was invented in a city in France and was named after that very city, Tulle. The fabric got its huge popularity when Queen Elizabeth II used tulle fabric in the making of her wedding dress veil in 1947.
The fabric is made using different kinds of synthetic fabrics mainly including silk, nylon, polyester, and rayon. Where polyester tulle is the most common and widely used form, rayon tulle is the least used and very rare in the market. The fabric is soft to the touch, has elasticity to a certain extent, and allows delicate embroidery as well.
As tulle is one of the most popular fabrics when it comes to garments applications, it has both pros and cons that are briefly mentioned below.
Pros of tulle
Doesn't fray
Soft
Comfortable to wear
Smooth texture
Floaty
Doesn't unravel
Lightweight
Adds volume to dress
Lovely silhouette
Ethereal appearance
Cons of tulle
Mostly transparent
Difficult to sew
Extremely delicate
Difficult to take care of and maintain
Uses of tulle
Veils
Gowns
Ballet tutus
Skirts
Accenting
Illusion panels
Undergarments
Flowers
Wedding chair decorations
Table skirt
Curtains
Chandelier
Pillows
What is organza?
Organza is made from the fibers of silk and is an extremely plain weave, sheer, thin fabric. The fabric also comes in versions where different synthetic fibers are used mainly nylon and polyester. The major regions where organza is woven in huge quantities include the province of Zhejiang and various textile factories near the Yangtze River in China.
The fabric is woven while having weaves between its fibers which give it a transparent texture. Just because the fabric is transparent and has a high level of breathability, it is widely used to manufacture garments that are worn over other fabrics.
As the organza is woven loosely, it is too delicate and cannot be cleaned efficiently in a washing machine. Experts recommended only washing this garment by hand as it will prevent any tearing while increasing its longevity. Just like any other thing in this world, organza fabric also has some cons along with many pros. So, let's have a look at this phase.
Pros of organza
Absorbent
Warm
Sews easily
Strong
Drapes well
Durable
Cons of organza
Difficult to maintain
Extremely delicate
It may not go well with a washing machine
Difficult to wear while traveling
Uses of organza
Airy skirts
Full dresses
Loose blouses
Sleeves
Veils
Capes
Sashes
Bands
Bracelets
Panels
Underskirts
Curtains
Draperies
Tablecloths
Overlays
Chain covers
Present bags
Ribbons
Flowers
Bows
Necklaces
Difference between Chiffon, Tulle, and Organza:
We cannot talk about one thing when it comes to distinguishing chiffon, tulle, and organza especially because they are all made from silk and have a lot of similarities. There are still some things that make these fabrics differ from each other.
Below is a list of the major factors that can be widely used to differentiate different fabrics and we will measure these three fabrics in those scales in a brief manner.
Appearance
As far as appearance is concerned, chiffon and tulle have almost the same appearance as both these fabrics are lightweight, soft, and smooth.
On other hand, the organza fabric is a little bit stiffer which makes it a good option for making structured gowns or dresses.
Chiffon and tulle have a sheen and lustrous look while the organza gives a dull look to the fabric.
Feel
Chiffon is extremely soft to the touch and feels like you are wearing an extremely lightweight sheen fabric or nothing at all. Tulle has the same feel but the texture is a bit different.
However, organza has a grain-like texture which means that if you touch it, it will give you a rough feel.
It doesn't mean that organza is itchy to wear but it has more crispiness as compared to the feel of chiffon and tulle which are soft and smooth.
Fiber Content
Talking about the base or originality, all three fabrics started to be made using silk of different qualities.
However as silk is too expensive these days, different kinds of synthetic materials are being used in manufacturing to make these fabrics accessible and affordable to a huge group of people.
Chiffon and organza usually include fiber content of silk, polyester, and nylon while tulle may have cotton, lurex, polyester, silk, and wool as well.
Fit and Drape
Chiffon has a drape almost like tulle but a level-up. The silhouette is also a lot more lovely in chiffon as compared to tulle.
Tulle gives a more relaxed drape which means that it is not a great option if you want a dress that keeps on hugging your body firmly. We can say that tulle is floaty and voluminous but offers an extremely lovely and romantic look.
The drape in organza is a bit stiffer and this is the sole reason why this fabric is different from chiffon and tulle and is used in making aesthetic gowns and dresses. Organza also has a deep color and gives proper volume to the garment.
Durability
Tulle is a lot more durable than chiffon because chiffon is extremely delicate and it tends to snag and fray easily. This is the reason that chiffon is not much appreciated to be used for an entire major dress.
When it comes to organza, durability can vary because different kinds of fibers and synthetic materials are used among the weaves. Just like chiffon, organza made from silk is also prone to snag and fray.
Breathability
All three fabrics are extremely efficient in terms of breathability especially because they all are mainly made of silk.
The organza which is made using synthetic fibers also has breathability to a certain extent but less than silk organza.
However, chiffon and tulle are better than organza when it comes to breathability because of their weaves, delicacy, and knitting methods.
Transparency
Chiffon is slightly opaque which means that it will require a few layers beneath so that the clothes are not completely see-through.
Tulle falls in the netting or mesh category which means you have to add another fabric under the tulle so that your body is not visible.
Organza is also transparent but not more than tulle or chiffon. However as it adds volume to the dress, you can add various layers which will reduce its transparency while giving your clothes an aesthetic look.
Price
All the fabrics are expensive to buy but organza is probably the most expensive of all. The thing is that organza is made from silk which makes it extremely costly but people ask what is the difference as tulle and chiffon are also made from silk?
Well, the fact is that the manufacturing processes and procedures for organza are very complicated, complex, require heavy machinery, and thus are costly.
So, in terms of price, high to low, organza comes in the first place, tulle the second, and chiffon falls as the cheapest of all three.
What is better, organza or chiffon?
Chiffon is great to wear in areas where temperatures remain high or in summer. Both organza and chiffon are lightweight, delicate, and sheer and woven almost in the same manner. The thing that mainly distinguishes organza from chiffon is that organza is a bit stiffer which makes it a go-to option for making gowns because you can design a proper shape and structure for your dresses.
Which is better, organza or tulle?
Both these fabrics are almost the same, such as both organza and tulle are transparent and have stiff drapes. The major difference is that the organza is a bit stiff while the tulle is too soft and lightweight.
So, we can say that the one that suits you the best will be better. For example, if you want to have a gown, you should go for organza but if you want a wedding dress veil, you should go for tulle.
Which is better, chiffon or tulle?
As far as popularity is concerned, chiffon ranks high as compared to tulle, especially when it comes to making wedding dresses. Chiffon is a lot more soft and smooth than tulle. With that being said, chiffon is a more opaque fabric which means that you can only have 1-2 layers of chiffon in your dress. Also, chiffon comes in various colors and styles as compared to tulle.
FAQs:
What kind of tulle is the softest?
Silk tulle is the most delicate and softest type of tulle and there is not a single doubt in this claim. This tulle is made solely from silk and includes nothing else. This is the reason that it is the most expensive and rare form of tulle on the market.
This tulle is not only soft but extremely lightweight and gives a fabulous feel while wearing it. This is mainly used in evening gowns and wedding dresses of extremely high quality.
Are organza and georgette the same?
No, they are not the same because the organza fabric is a plain weave, sheer and thin fabric which is derived from silk while the georgette is lightweight, sheer, and most importantly, dull edges crepe fabric. We can say that there are not many differences but there are a few that distinguish both fabrics from each other.
What material is similar to chiffon?
Many fabrics are related to chiffon while tulle is the most similar if we talk about the major ones. Both these fabrics are sheer, soft, knitted, and lightweight.
Apart from this, both fabrics are somehow made from silk fibers and are quite expensive as well. Some other fabrics can relate to chiffon in different factors such as look, softness, lightweight, woven pattern, appearance, feel, etc.
Some of the major names include:
Silk organza
Organdy
Georgette
Nylon
Sheer silk
Sheer polyester
Netting
Muslin
Gauze
Lace
Batiste
Cotton lawn
Voile
Sheer