Fabric markers are in the play for a long time and they are becoming more and more popular with each passing day. When you make a Google search about fabric marker art, you will be amazed to see the beauty and unique designs that can be made with this simple yet amazing tool.
This thing may urge you to do your own artwork on your t-shirts or any other fabric. Before you move on to start doing markers on your fabric, it is always a good option to have proper knowledge about fabric markers and how long they last.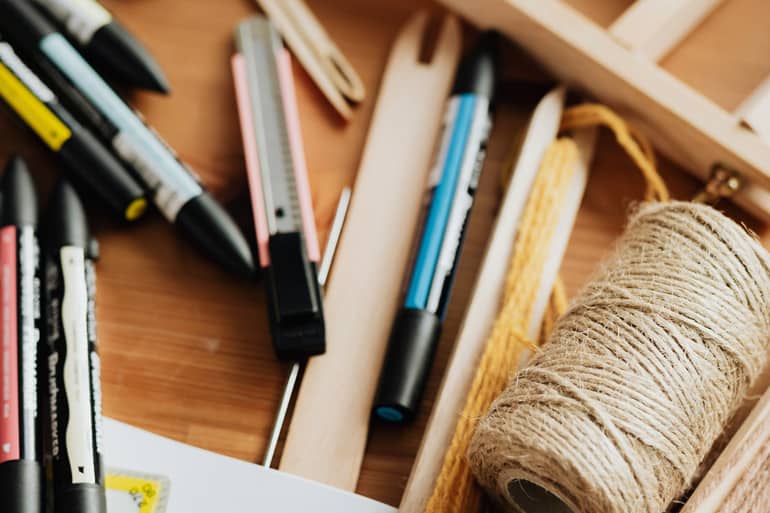 This is important so that you don't end up with a failed art after spending hours of hard work.
For this purpose, you should have answers to the questions like, do fabric markers wash out? How to use fabric markers? How long do fabric markers last?
Don't miss out on this article. It will bring you all the answers along with a bunch of useful information regarding fabric markers and how to utilize them efficiently.
Can fabric markers wash out?
Permanent color or ink is used in the manufacturing of fabric makers.
They are designed to stay on the cloth for a long time without fading away or getting dull. As it is obvious that fabric will undergo a lot of washes throughout its life, the fabric markers are specially designed to withstand this factor and remain as beautiful and shining as they were on the first day.
Look for fabric makers where the word "Waterproof" is mentioned on the packaging.
What fabric marker is used for?
Fabric marker is a specialized tool that is used to create designs and arts on different kinds of fabrics such as clothes, shirts, t-shirts, curtains, blankets, pillow covers, pants, scarves, tapestries, and many other clothing accessories.
You can use markers of different colors to create a full-fledged design which is sometimes not possible to do using pure dye. In a nutshell, a fabric marker is used to draw and colorize your personalized designs on fabrics without falling into the mess of dyes.
How to use fabric markers?
There is no special method to use fabric markers as you can draw with them just like you do with any other pen or marker. If you are an artist and have the skills to draw perfectly on fabrics, you are good to go the way you like.
But if you are new to this thing and do not have any major skill or experience, it is recommended to follow the below-mentioned procedure.
Make a prototype sketch of the design on a piece of paper that you want to draw on your fabric.
Take a lead pencil and outline the design on your fabric i.e. a shirt.
Don't start using actual fabric markers until you have drawn a proper outline of the art on fabric by following the trial and error method.
Now start by applying the fabric markers to that very outline.
Once the outline is completed, now it's time to add the internal colors and all other minor details that will give a proper look to your fabric.
How do you get fabric markers to stay?
Fabric markers are permanent and stay on cloth for a long time. You just have to put the fabric flat on a surface after you have drawn the design for about 24 hours. It will make the marker ink, gel, resin, or paint set in the fabric and become permanent efficiently.
If you are not satisfied with the general permanency of the fabric markers, exposing heat to the area is also considered a great option. You may put it in a dryer or expose heat through the iron. This will make the ink burn and get attached to the fabric fibers in a much better way, making it even more solid.
Different kinds of fabric markers:
Permanent Fabric Markers
Ink-Based Fabric Pens
Acrylic Paint-Based Fabric Pens
Gel Fabric Pens
Fabric Pens Tip Style
Non-Permanent Fabric Markers
What are the best fabric markers to use?
It depends on the type of fabric or thing you will use the fabric marker on. For example, if you are buying a fabric marker for a shirt, the choice will be different compared to the best suitable marker for a shoe's fabric.
However, some of the best fabric markers that can be used in different kinds of applications for varying fabrics include the following:
TULIP Dual-Tip Fabric Markers
Best Fabric Markers
Crafts 4 All Fine Tip Fabric Markers
Mosaiz Fabric Markers Pen Set
Dritz Dual Purpose Marking Pen
TULIP Fabric Paint Markers
What fabrics do fabric markers work on?
Fabric markers work on almost all kinds of fabrics that are flat and you can draw on them. It is quite difficult to draw on wool or fabrics with fur because of their long fibers but if you can, fabrics makers will work on such fabrics as well.
In simple words, fabric makers are just pens that can be used on anything if the users have the skill to do so. However, some of the best and most compatible fabrics include the following:
Does fabric marker bleed on cotton?
No, the fabric marker doesn't bleed on cotton. It works perfectly on almost all kinds of fabrics; their efficiency is considered even better if applied to cotton.
The reason is that cotton is a breathable fabric that has a better ability to absorb moisture. This thing allows cotton to retain ink more efficiently, setting easily, and lasting for a long time.
Does fabric marker bleed on polyester?
There are specified fabric makers designed and manufactured for some specific fabrics such as Crayola Fabric Markers are considered great to be used on polyester.
Draw whatever you want on polyester and let the fabric pass through a heat exposure cycle which can be done by putting it into the dryer. Once the ink becomes permanent, nothing will bleed and the art will stay on your polyester for a long time.
Do fabric markers work on t-shirts?
Fabrics markers not only work on t-shirts but it is probably the most common thing to go under these markers. You can design simple white t-shirts in your personalized manner and make them look just as you want.
Using fabric markers is a piece of cake as you can draw anything just like you do on a piece of paper. Just make sure that the t-shirt is laying without any stretch or shrinkage because this can affect the art once it is released.
Do fabric markers need to be heat set?
The fabric markers can set and become permanent within 24 hours but there could be a risk of the ink fading or expanding out in other directions, on some fabrics.
It is always a good practice to pass your fabric through a heat cycle by putting it into the dryer. This will ensure that the ink has set and you can wash it and wear it without having any concerns of bleeding, running, or getting the art dull over time.
What is the difference between Sharpie and a Fabric Marker?
Both Sharpie and Fabric Markers are used to draw your art and design on your fabrics. They are almost the same in terms of drawing, using, handling, and all. The thing is that sharpies are not as long-lasting as fabric markers.
A fabric marker will stay on the fabric for an extremely long time without becoming dull. However, a sharpie art on your fabric can begin to fade away after some time and this dullness will keep on increasing with each passing wash cycle.
What is a better fabric marker or fabric paint?
First of all, you need to ensure that the type of paint you are buying is permanent and will stay on fabric for a long time just like you do while buying fabric makers. Now the answer to "which one is better" will depend on your desired artwork.
If you are going to draw something that includes simple lines, going with fabric markers is the best option because making such designs is quite difficult with paint.
However, if your art requires internal painting and coloring and that is large as well, you should opt for paint as you can fill the internal area using a brush in a matter of seconds.
How long do fabric markers take to dry?
Many factors contribute to this thing but the best recommended time is 24 hours. Mostly the fabric markers will become dry in a matter of minutes or a few hours, still, it is a better idea to let your fabric stay in the proper position for a day so that the ink can set perfectly in the fabric and you don't have any concerns while wearing or washing the fabric.
How long do fabric markers last?
Permanent fabric markers can last on your fabric for plenty of years or we can say that the whole life of that fabric. The thing is that many factors affect this longevity such as the type of fabric, weather conditions, heat exposure, etc.
However, fabric markers are designed to stay still for like more than the life of your clothes, so, don't worry and enjoy the art
How do I prevent fabric markers from bleeding?
Test the fabric using a small area because rough grain fabric bleeds a bit as compared to fabric with smooth grain.
Pre-wash the fabric as it will prevent shrinkage and bleeding while or after designing the fabric.
Don't press the marker tip or pause it in one place for a long time as the ink will start bleeding.
Always place cardboard or any other material between the two sides of the fabric. For example, if you are doing art on a shirt, place cardboard in between so that the ink doesn't pass from one layer to the other.
Give about 24 hours or maybe more for the fabric markers to dry completely.
Iron the design you have drawn while putting a medium (a piece of paper or any other fabric) in between.
FAQs
Do fabric pens bleed?
Fabric pens don't bleed or make a mess unless you have started to move the fabric forcefully while the ink is still wet. Once you have given fabric 24 hours to dry, there is no way that fabric pens bleed even if you wash afterward.
Can kids use fabric markers?
The ink in fabric markers is non-toxic which makes it equally safe for kids as well and they can use it to draw on t-shirts.
However, the art will be quite different because of their level of skill and experience, as you know. Just make sure that they are grown enough to not put the tip in their eyes or nose as it can hurt.
Can fabric markers hide bleach stains?
Yes. Fabric markers can be used to hide bleach stains and they are permanent as well. The only difficult thing is finding a maker that has the same color as your fabric.
If you are unable to find 100% matching fabric markers for your fabric, it is always a good option to draw an attractive art in the place of bleach satin as it will creatively hide the satin.