The industrial sewing machine is a type of sewing machine known for its manufacturing prowess, durability, speed, and tough construction. This type of machine is programmed to operate automatically and can be used in making clothes, shoes, and many other items. Industrial sewing machines are of different types, with some designed to make specialized stitches and seams.
However, as amazing as the qualities of this machine are, it is not meant to be used by everybody, and therefore, a lot of variables are considered before they are purchased. As a result of this, sewers and seamsters are often bothered with the question, do I need an industrial sewing machine?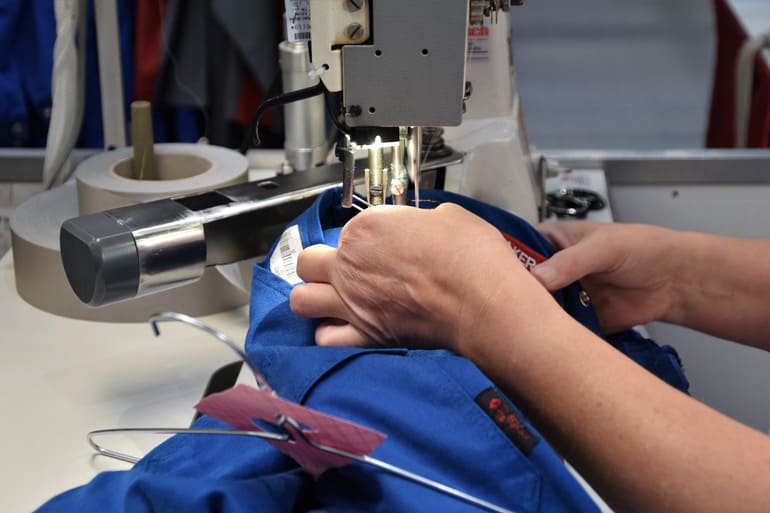 This question and some others will be treated in this question, so if you also find it interesting, you had better start going through this article.
Do I need an industrial machine?
Yes and no, this may depend on whether or not it is in the best position to satisfy your sewing project need.
Before deciding to buy an industrial sewing machine, first of all, ask yourself this question, do my current sewing machine satisfies all my current sewing project needs? If yes, then you may not need an industrial sewing machine. If not, you may get one provided that you earn for improvements in your future sewing projects.
Another thing you should consider is whether or not you are ready to spend constantly on maintenance. It is necessary to ask yourself this question because this type of machine is usually referred to as a workhorse: they work a lot!
And besides that, they make so much noise, and for these two reasons, they have to be properly maintained to keep them working optimally and also to avoid a total breakdown.
Is an industrial sewing machine worth it?
Yes, an industrial machine is worth it. If, after carrying out your project assessment and you find out you need an industrial sewing machine, then you can go for it because, in the long run, it will be worth the investment. With an industrial sewing machine, you can get a lot of projects done within a short period.
Asides from that, if you are the type that works a lot on sewing and upholstery projects, you should consider buying an industrial sewing machine because using them will upgrade your designs.
Is an industrial sewing machine better?
Compared to the normal sewing machine? The straight answer is yes. This is because this type of machine is designed to make high-quality stitching that will be impossible for regular sewing machines to match.
Also, because these machines are built for heavy-duty materials, they can easily handle heavy workloads without getting broken down, as is always the case with regular sewing machines.
What is the difference between an industrial sewing machine and the normal one?
Regular sewing machines are designed to handle lightweight materials, while industrial machines are designed to handle ticker and heavy-duty materials. Although some regular sewing machines can handle heavy-duty materials too, in terms of efficiency, they are not on par with industrial machines.
Regular sewing machines are designed to work for a few hours at a time which is why users easily stop between projects and start all over again: constantly removing pins and adjusting material. On the other hand, industrial machines are meant for heavy-duty workloads, and because of this, they are designed to be used uninterruptedly for long hours.
Industrial sewing machines are equipped with heavy components like the motor, rod, and several other mechanical components. Although some regular sewing machines also have motors but compared to the industrial ones, they are smaller.
Because of the higher efficiency level of industrial machines, they are usually more expensive than regular sewing machines.
How to use an industrial sewing machine?
The right posture for using an industrial sewing machine.
Adjust the chair so that it can be at par with your height.
While sitting, lean forward in such a way that you will be occupying only 2/3 of the chair seat.
Sit tilting towards the left of the table center. In this posture, your eye and the needle bar will be aligned.
Sewing a piece of fabric with an industrial sewing machine
Press the presser foot treadle to raise the presser foot.
Perfectly place the fabric and press it down using the presser foot.
Press the machine treadle to sew the fabric.
Switch the way you are holding the fabric by holding it from the top using your left finger. Note that the left hand should be at the spot where the sewing will end.
Start sewing the fabric until it reaches the end. Careful not to pull the fabric while sewing
If you are using an overedger, fix your eye line at the knife cutting place (the cut allowance should not be less than or more than 3mm to 5mm)
What are the benefits of an industrial sewing machine?
Industrial machines can windup bobbins and sew simultaneously.
It offers a wide range of speed options ranging from low to medium to high.
It can be used to sew through upholstery such as leather.
It can sew through several layers of thick fabrics as well as batting.
They have automatic features such as automatic thread trimming.
They are much more reliable and durable.
How do I choose an industrial machine?
Choose a model with less noise 
Go for a brand with spare parts that can be easily repaired. 
Select a sewing machine with a free arm feature. 
Choose a model with a clutch motor 
Choose a machine with technological advance control methods like Keypad buttons. 
Choose a machine that has a walking foot device as its feed mechanism. 
Which industrial machine is the best?
There are lots of industrial sewing machine brands, and picking the best may not be possible. However, below is the list of 5 top brands.
Juki DDL -8700
Janome HD1000
Singer 191D-30
Juki DDL -555ON
Consew 206RB-5