Whether you are just being introduced to quilting or you are an expert, one thing is for sure; you want to get your project done as soon as possible and at the lowest cost. This may only be achievable if the quilter adopts the traditional method of buying yardage of fabrics for the different designs and cutting them into standard quilting pieces.
But with the introduction of charm packs, quilters now spend less time on quilting and also spend less money on patchwork as the fabrics are already precut to the standard quilting sizes. Nonetheless, if you are using charm packs for the first time, you may have certain questions like do you wash charm packs for quilting or how do you even wash them? These are questions that will be addressed in this helpful article.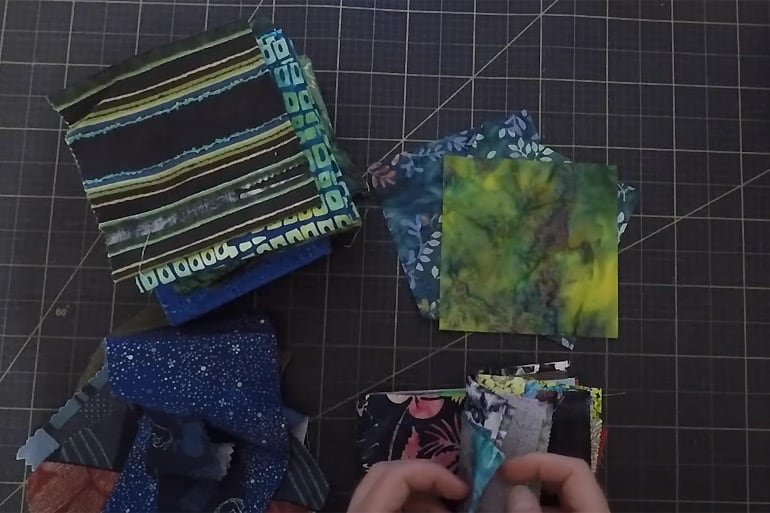 Do I need to wash charm packs for quilting?
No, you don't have to pre-wash your charm packs for quilting. In general, it is not advisable to prewash any kind of precuts because doing so can cause them to unravel, distort or reduce their standard size since they are likely to shrink. If at all you want to wash your charm packs, the best way to do it is to hand wash them with cold water in a sink.
How do you wash charm packs for quilting?
Put the charm packs in a mesh bag. For the best result, a single charm pack of 42 squares should be separated into 2 different bags.
Toss your precut in the washing machine and wash on a delicate cycle.
To prevent the precut from bleaching, apply a color catcher dye magnet sheet.
Dry the charm packs without removing them from the mesh bag.
Remove all wrinkles by pressing the washed squares with an iron.
Do I need to wash a Batik Charm pack before quilting?
Yes, you should wash the Batik charm pack before quilting. It may not be advisable to wash precut before using them, but in the case of the Batik charm pack, the case may be quite different because their situation makes washing before using paramount. Batik materials usually contain dye and wax, which is why they must be cleaned before you start using them for any sewing or quilting project. Doing so will help to prevent color transfer and reduce shrinkage.
Are charm packs pre-washed?
Yes, charm packs are pre-washed. The general idea about all precuts is that they should not be prewashed so that they wouldn't get distorted or unravel. But there has been a situation where charm packs shrink more than an inch because they are not pre-washed. Therefore, prewashing is not a process that can be eradicated entirely when it comes to charm packs.
Should you prewash charm packs?
Yes, you can prewash charm packs. One thing is whether you prewash charm packs or not; there's still possible that they are going to shrink, which is why most quilters would always prewash before quilting with them. And the fact that when they are pre-washed without shrinking when the correct technique is used makes the process worthy of consideration.
What are charm packs in quilting?
Charm packs are a bunch of 5″ quilting squares of quilting fabrics that are precut with a cluster of equal materials from the collections of designers. This quilting fabric makes it easier and faster and provides a cost-effective way of making quilts.
How many pieces are in a charm pack?
In total, you will find 42 pieces of fabric squares in a charm pack. The sizes of each of these squares are 5″ by 5″.
How to make a quilt from a charm pack
Items needed
4 charm packs or a layer cake cut into fourths.
1 jelly roll.
Getting started
Take the charm packs and chain-piece them. To do this, lay your strip out on a table, place your charm pack in the strip and sew down without cutting or removing and continue to join the charms until the strip is full. Do this for all the charms in the pack.
Trim off the edges of the charm pack chain with scissors.
Place the trimmed edges on the ironing board and press them open with an iron.
Pick another piece, place one of the ironed pieces and sew it down. Add all the pieces to the strip in a similar way to form a complete block.
Cut the block apart and iron the piece one more time, then set your seam and roll them back.
Lay out the charm pack pieces; on the first roll, place the corner up to the top. Next, place the corner to the bottom; the next piece should be laid out in such a way that the two charms will touch each other. Follow this arrangement for assembling subsequent pieces.
Start the second roll with one block over, and the remaining pieces are arranged such that the pattern of the blocks is diagonally aligned.
What size quilt can I make from with a charm pack?
You can make 27 inches by a 31.5-inch quilt with one charm pack, and that's the largest quilt you can get. This can be expanded further by adding sashing between the charm borders and squares to the outside of the quilt.
Can you make a quilt with one charm pack?
Yes, you can make a quilt with one charm pack. A full quilt can be made from a charm pack by stretching them with the addition of background fabric and extra fabric.
How many yards is a 5-charm pack fabric?
A 5-charm pack fabric is the same size as 2.5 yards.
How many charms packs to make a twin quilt?
A twin quilt size of about 72 inches by 90 inches will require at least 320 5-inch squares, which means to complete a quilt project of this size, you will need up to about 8 charm packs.
How many charms packs to make a lap quilt?
The size of charm packs to use for a lap quilt depends on the pattern. However, in general, you will need 3 to 4 charm packs lap quilt of 50 inches by 60 inches and up to 6 to 8 charm packs to make a queen quilt of about 90 inches by 108 inches.