Just like any other sewing project, selecting the suitable material for your cross-stitching project will not only make your work straightforward but will also impact your final product. And this is why Aida cloth was created: Aida fabrics are designed to have holes or spaces that make it easy for needles to slide easily through them.
Well, as you may already know, cross stitching involves many steps, and even if you are using Aida cloth, there are some steps you may find quite challenging: many sewists don't know "how to finish the edges of Aida clothes.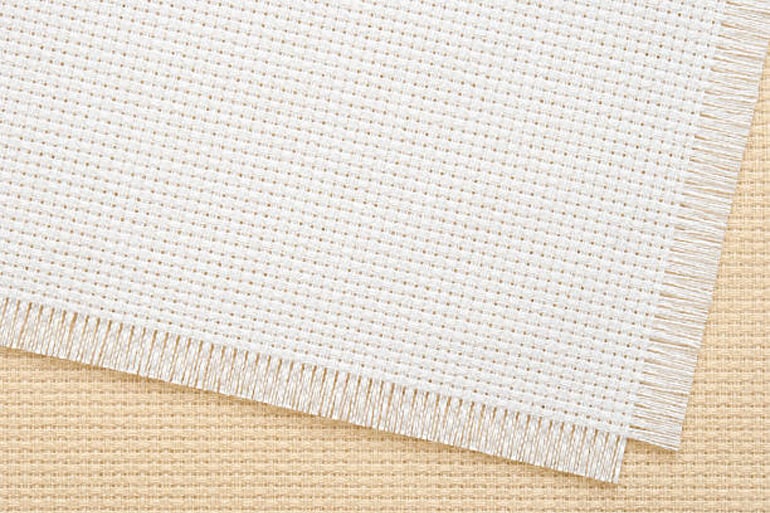 Fortunately, this aspect is one of the many challenges sewists face that are resolved in this article, so if you have been facing any difficulty regarding this fabric, this helpful article is for you!
What is Aida fabric?
Aida fabric, also known as Java canvas, is a cotton material with open and even weaves that was used initially for making cross-stitch embroidery. This fabric is characterized by its natural mesh, which aids cross-stitching and natural stiffness, making it necessary for cross-stitchers to use embroidery hoops.
How do you finish the edges of Aida's clothes?
You can use several methods to finish the edges of Aida clothes. However, some of these methods will be discussed in detail below.
Hemming to finish Aida cloth edges
Fold the fabric by 2 meters or about 3/4 inch on all the sides and press down afterward with an iron in a warm setting.
Make use of a running stitch technique to sew around the edges of the fabric with a strong, vibrant-colored thread.
Secure the thread at the ends
Taping to finish Aida cloth edges
For this, you will need a low-tack or masking tape. After getting the tape, then you can proceed to the steps below.
Once your sewing work is complete, to finish the edges, start by cutting the taped area.
Create an allowance when measuring the fabric.
Finishing with serger
To finish with a serger machine, replace the original foot in your serger machine with an overlock foot.
Alternatively, you can set your machine to a zig-zag setting and stitch closely along the edges.
Finishing with hand stitching
Overcast the fabric edges with a simple whip stitch. It is better; still, you can fold the edges and convert them into a hem before basting it.
When hand-stitching the edges, make use of the regular thread for sewing. To prevent unnecessary pulling of the edges, sew about half an inch or quarter inch into the fabric.
What is Aida cloth made of?
Aida is made with 100% cotton.
What is Aida cloth used for?
Majorly, Aida fabric is used for making cross-stitching and embroidery. Other uses of the material include making crafts, fancy clothes, or creating designs on covers, pillows, rugs, bedcovers, and curtains.
When was Aida cloth invented?
Aida cloth was invented in 1890 by Zweigart, a Germany-based company. The fabric was created by this company to make cross-stitch and was evenly weaved and designed to have small squares that make it easier for cross-stitchers to see the spot where stitches cross one another.
Aida cloth properties
1. Open weave
Aida fabric has open, even, and wide weaves, making it easier for even inexperienced cross stitchers to learn and master embroidery skills faster.
2. It can be easily dyed
Aida fabric is made with 100% cotton, and therefore, it is easy to dye with several colors. The threads of the material can hold on to the colors for a long time, which means they won't have fade easily like some other fabrics. 
3. Different fabric counts
Aida fabric is sold in stores in various fabric counts. This feature will make it easier for you to influence the number of holes the fabric will have per inch.
4. It is a cotton fabric
Aida fabric is made of 100% cotton, and because of this, they are usually easy to wash and handle. Also, because it is made of pure cotton, the fabric is said to be eco-friendly and biodegradable.
How to soften Aida's clothes
If your Aida cloth is too stiff, you can soften it with the highlighted steps below.
Put the Aida cloth in the dryer with a dampened washcloth and a fabric softener.
Run the dryer on a low to medium setting for about 30 to 40 minutes.
Remove the fabric from the dryer, smoothen its surface with your hand, and then leave it for 5 minutes.
How do you cut Aida without fraying?
The best way to keep your Aida fabric from fraying is by stitching the edges with a serger machine. However, if you don't have a serger machine, you can also use any of the methods below. 
Cut your Aida material with a wider seam allowance.
Use iron-on fusible interfacing for the edges of the fabric.
Use a zig-zag stitch
Hand-stitch it.
Make use of Bias tape bound edges.
Use pinking shears
Sew French seams.
Should you iron Aida cloth before cross-stitching?
No, you don't have to iron your Aida cloth before cross-stitching. Ironing your Aida cloth or any other fabric is more like a complete waste of time. This is because the material will eventually wrinkle when you hold them in your hand to stitch or when you are trying to place them in a hoop.
Is there a right side to Aida cloth?
No, Aida cloth does not have the right side. Unlike other fabrics used in making clothes, Aida fabrics don't have wrong or right sides: both sides have the same texture. Aida fabrics are not designed for cloth making, so it doesn't matter whether you are making your design on the right or the left side; the outcome will be the same.
Can you punch a needle on Aida's clothes? Yes, you can punch a needle on Aida's clothes. However, if you want to do it, this should be done on an Aida fabric of at least 14 counts or higher because most Aida fabric does not have the tension required for picking a needle.