When it comes to comfort while working out, swimming, jogging, or doing hard physical activities, nothing can go beyond what lycra has to offer. It is probably the most stretchy and comfortable garment and has become a trend in gym wear in the 21st century. Using lycra in different kinds of sewing activities and projects has become too popular these days and people want to know how to sew lycra on a conventional machine?
This is a great thing to learn because if you can sew lycra on a regular machine, you will not have to spend a lot of money on buying lycra clothes, and also, you will be able to design and sew clothes of your desire and likes.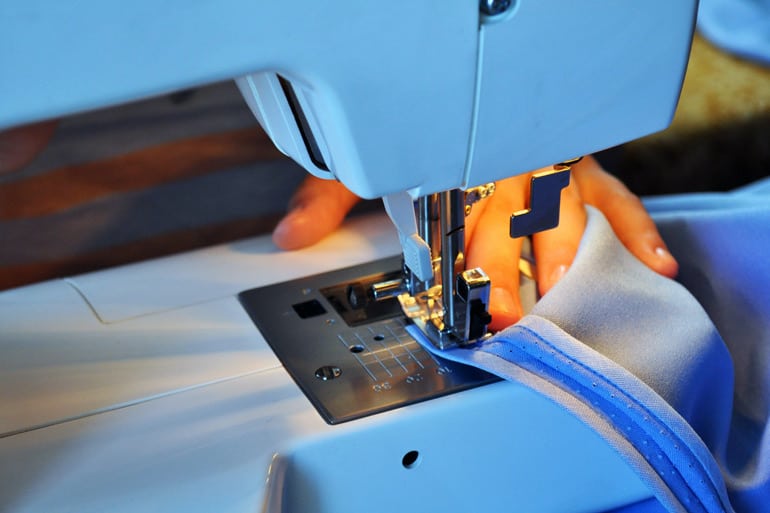 So, in short, you can sew lycra on a conventional machine but there is a lot more to know before you step into starting sewing at home. Continue reading this article and become a pro in sewing lycra efficiently.
Can I sew lycra on a regular sewing machine?
Lycra fabric is a lot different than any other garment in the world. This claim is supported by the fact that the stretching or wrinkling resistance in lycra is way more than it is in all other garments.
This is the reason why lycra is widely used in the manufacturing of gyms, workouts, and swimming outfits. These unique characteristics make it a bit difficult to sew but after a few adjustments and following some professional tips, you can easily sew lycra on a regular machine.
Why is buying premium-quality lycra convenient?
It is always a good practice to check the lycra fabric quality because you can sew efficiently at home only if you have premium quality lycra fabric. A premium quality lycra will not have additional stretching which directly means that the stitches will be sewn more strongly and easily.
Also, a premium quality lycra can withstand the power of polyester thread but if the quality is low, the garment may start stretching and break down from the stitches after some time of wearing.
What do I need to sew lycra on a conventional sewing machine?
Before we move on to discuss the detailed procedure of sewing lycra at home efficiently, let's first talk about some general and essential products that will be required to sew lycra.
The most important things to have on the table before you start sewing lycra include the following:
A high-quality sewing machine.
Your lycra fabric.
Polyester threads (of matching or contrasting colors).
A suitable, preferably stretch or jersey needle.
Rotary cutter
Scissors
Tailor's chalk or water-soluble fabric marker
Cutting mat
Wonder clips
What needle do you use for lycra fabric?
A stretch needle is no doubt the best needle you can use to sew lycra fabric. People around the world prefer this needle for almost all kinds of elasticated or stretch fabrics.
You may also hear about jersey needles which is also a good option but it can cause some skipped stitches on lycra.
This is the reason why stretch needles have an edge over jersey and all other needles. Also, stretch needles tend to work more efficiently with polyester thread.
Which thread is good for sewing lycra?
The polyester thread is considered best for sewing lycra, spandex, or any other stretchy fabric. This string has the flexibility to withstand the stretch and forces that come with the movement of a body of a person.
You may also go for nylon thread when it comes to sewing loopers however, the polyester thread would bring the best results for sewing lycra in all conditions. 
What stitch is good for sewing lycra?
As lycra is stretchy and goes through a lot of movement during physical activities, an overlock stitch is considered best as it is not only flexible but looks clean and professional as well. Apart from this, an overlock stitch is quite strong and enhances the lycra's ability to stay in place for a long period.
How to sew lycra on a conventional sewing machine?
Sewing lycra is not that hard but you need to follow a proper and step-by-step procedure to get the best quality and perfect results. Below is the brief process that can lead you to sew lycra in the best way while following only 7 steps.
1. Pre-Wash the lycra fabric
Start by pre-washing your lycra fabric because it is a stretch fabric that can shrink on its first wash. Pre-washing will bring all the shrinkage out, protecting you from experiencing any shrinkage once the clothes have been sewn already.
2. Cut your lycra fabric
Cutting lycra fabric is a bit tricky because of its stretchy characteristics. It is better to use a cutting mat and start cutting your fabric once it is dried completely after the pre-wash.
Also, use a rotary cutter and a sharp pair of fabric scissors so that you can achieve straight lines and edges while cutting.
3. Insert wonder clips
Now insert wonder clips wherever required so that you can have a track of cutting and the fabric can be kept in place.
It is recommended not to use sharp pins as they can damage the fabric while sliding through the fibers or fabric threads.
4. Install needles into the sewing machine
Now it's time to install the best suitable needle for your lycra fabric into your sewing machine. You have the options like jersey needles, ballpoint needles, and stretch needles.
Although a stretch needle is the most used needle for sewing lycra, some people prefer ballpoint needles as they don't damage the clothes because of their rounded tips.
5. Reduce pressure on the presser foot
Having too much pressure from the presser foot can cause the lycra to stretch more which will affect the stitching, overall quality, and strength of the made clothes.
Therefore, it is recommended to reduce the pressure to level 1 and then adjust as you like.
You may also go for a walking foot as it has upper dogs that feed fabric at the same time and speed as the bottom dogs, preventing any kind of extra stretching or wrong stitching.
6. Insert polyester thread
Insert or install the polyester thread onto your sewing machine. Always opt for polyester threads because it is strong and highly compatible with stretchy garments like lycra.
7. Do the final adjustments
In the last step, you need to set the sewing machine to sew narrow zigzag stitches as it is best for lycra fabric and any other stretchy fabrics. Now increase the stitch length so that the fabric has a slack to get stretched to some extent. A stitch length of 0.02 to 0.05 is considered suitable for lycra fabric in most cases. And now, start the sewing process properly.
Tips to sew lycra and related fabrics in a better way:
While cutting fabric, it is recommended to use the stretchiest part of the fabric on your chest, belly, or waist.
Choose the best suitable needle such as a stretch needle as it has a coating that prevents skipped stitches.
Use polyester thread as it is strong and compatible with almost all kinds of sewing machines.
Use wonder clips to mark points instead of sharp pins.
Reduce the pressure on the sewing machine's presser foot.
It is a lot better to install a walking foot on your sewing machine before sewing lycra fabric.
Use zigzag or overlock stitch as it is perfect for stretchy garments like lycra.
If possible, opt for a twin needle machine as it will pave double stitches on the hem of the fabric which will give extra strength to the fabric.
Increase the stitch length to a bit extra points preferably between 0.02 to 0.05.
FAQs:
Is lycra difficult to sew?
This is a popular assumption that sewing lycra on a conventional sewing machine is difficult instead it is quite easy and efficient.
All you need is to have information on some techniques, update your sewing machine with some required tools, and get a little bit of knowledge about how to sew lycra efficiently. Once you have these three topics covered, you can easily sew lycra or all kinds of projects.
Are lycra and spandex the same?
Yes. Lycra and spandex are two different names for the same fabric, or if we go into detail spandex is a casual or generic name of this fabric's fiber while lycra is a byproduct of the spandex.
Both names can be used for these specific fibers as there is no difference and also LYCRA company is widely recognized as the only company in the world that produces authentic fabric of this type.
How to find the right side of lycra?
Most people think that lycra doesn't have a right side because both sides are the same but it is a completely wrong assumption. It is quite tricky to determine the right side of the fabric but if you look with proper attention, you can realize the difference. It's better to put your fabric under a bright light and then focus on the fabric.
Change the side of the fabric again and again to see the difference. The side with more prominent and highly visible rib lines running straight will be considered the right side of the lycra fabric.