If you are accustomed to drawing or making designs, you should know what tracing paper is unless your skill level is restricted to using the conventional way of drawing with just paper and pencil.
Although this versatile tool was initially created for architects and design engineers only, nowadays, it has become a popular tool among fashion designers worldwide.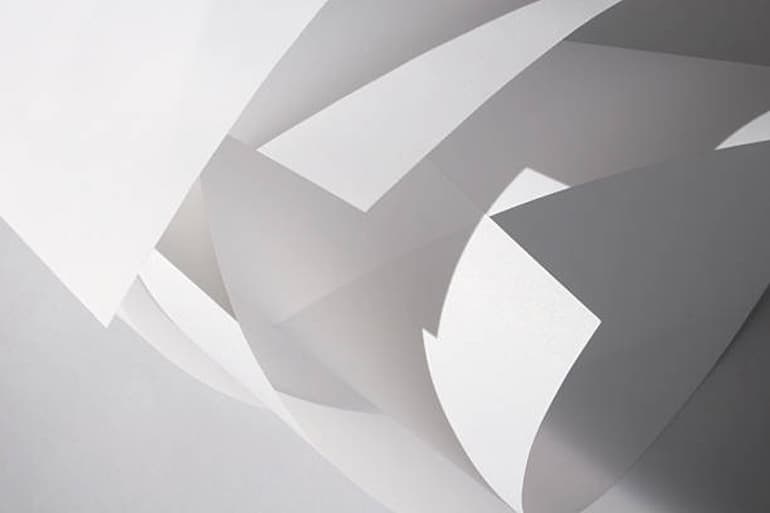 Tracing paper has completely transformed the way designs are made on fabrics; interestingly, they are straightforward to use. 
Nevertheless, several people still find it challenging to use this drawing tool, so I have decided to write at length about how to use tracing paper on fabrics as well as every other information relating to this drawing accessory in this helpful article.
What is tracing paper?
Tracing paper can be simply defined as transparent paper used for making designs, drawings, and drafting.
This paper is also known as vellum as it shares similar properties with animal skin parchment.
Tracing paper can be easily folded and has a lightweight feel which makes them ideal for transferring designs or sketches.
How do you use tracing paper in fabric
Equipment needed
Pencil
Embroidery needle of either size 1 or 5.
Needle for basting
Material needed
Design to be transferred
Sheet of tracing paper
Sewing thread for basting
6 strand embroidery floss
A small square of fabric
Steps involved
Place the tracing paper over the design and trace the design with a pencil from the pattern and unto the tracing paper. Then cut out the design from the traced piece.
Thread the basting needle with enough thread to go around the traced design edges and make knot at the end of the thread. Make use of a large running stitch to baste the design to the fabric to prevent it from moving.
Working through the fabric and the tracing paper transfer and following the marked patterns, embroider the design. You can use any backstitching, closely spaced running stitch, or tightly worked stem stitch to outline your design keeping the stitches as simple as possible.
After completing the embroidery, remove the thread that holds the embroidery fabric and the tracing paper together. Gently remove the tracing paper and start tearing the paper around the design edges. Do this until you pull out every piece inside and around the design.
Remove the paper piece by piece. If you have a problem getting all the paper out, perforate them with a needle and remove any paper stuck under the stitches with a tweeze.
How to use tracing paper for a sewing pattern?
Lay the tracing paper on the pattern you intend to trace. Make sure the tracing paper covers the entire image.
Fold the tracing paper edges and tape them to the pattern using masking tape to hold them in place.
Trace the original pattern to the tracing paper with a graphite pencil. Follow the original pattern line and make sure all of them are transferred to the tracing paper. Avoid using colored pencils, pens, or markers so as not to complicate your work.
If the tracing paper falls out of place, place it back and continue with the already traced line.
You can correct any error with an eraser, just that you must be careful so that you don't end up tearing the paper.
Gently pull out the tracing paper and strip off the masking tape used to secure the tracing paper. Compare the original pattern and the tracing paper, and they should be the same.
What is tracing paper made of?
Tracing paper is made from sulfite pulp or cotton rag.
Tracing paper types
1. Vellum
Of all the Tracing paper types, vellum is the thinnest, and it is the most suitable for transferring images to heavy sheets of paper or making elaborate drawings.
Apart from being tiny, vellum has other properties like high transparency and a smooth surface, which can be easily folded. 
2. Paper
Paper is said to be the thickest of all the tracing paper types.
This form of tracing paper is ideal for making large-scale patterns and drawings. Although this tracing paper isn't as translucent as the other forms of tracing paper, it is the most durable. 
3. Bond
Bond is more or less the in-between of paper and vellum tracing paper in terms of thickness: it is thicker than vellum but thinner than paper.
Bond tracing paper is most suitable for drafting or making patterns and is considered the most affordable of all three types. 
What is tracing paper used for?
To trace an existing image
Tracing paper makes it easy for drawings or patterns to be traced from an original surface and transferred to a new surface without any significant change or alteration to the original image.
All that is required to achieve this is to place the tracing paper on the image you intend to transfer, tracing the outline of the image with a pencil. 
To make patterns
Besides making images, fashion designers and sewists can also use tracing paper to create patterns for their designs. This is usually done by placing the fabric on the tracing paper and marking spots where cuts and stitches will be made.
To create elaborate drawings
Tracing paper is known for its versatility, and because of this, it can be used to make complicated drawings that will involve making sketches, patterns, or drafting.
The transparency and thinness properties of the tracing paper make it ideal for such elaborate work. 
To select colors for your project
When choosing colors for projects, designers test out different color combinations with tracing papers.
They do this by painting directly on the paper until they can create a color scheme that will be perfect for their project. 
To protect your work
One other thing you can use tracing paper for is as a protective layer. Placing the tracing paper between your design and the fabric will help prevent smudging.
How to remove tracing paper marks from sewing
Make a cleaning paste with baking soda and dish soap.
Dip a toothbrush in the paste and scrub on the marked surface until the marks are completely removed.
Rinse the treated spot and then leave it to dry.