To be honest with ourselves, not everybody can afford the ridiculous amount that natural fabrics are sold for in the market, hence the reason for introducing synthetic fiber.
Some fabric types are toxic, so people will readily ditch them for the first option. But that cannot be said of Minky fabric.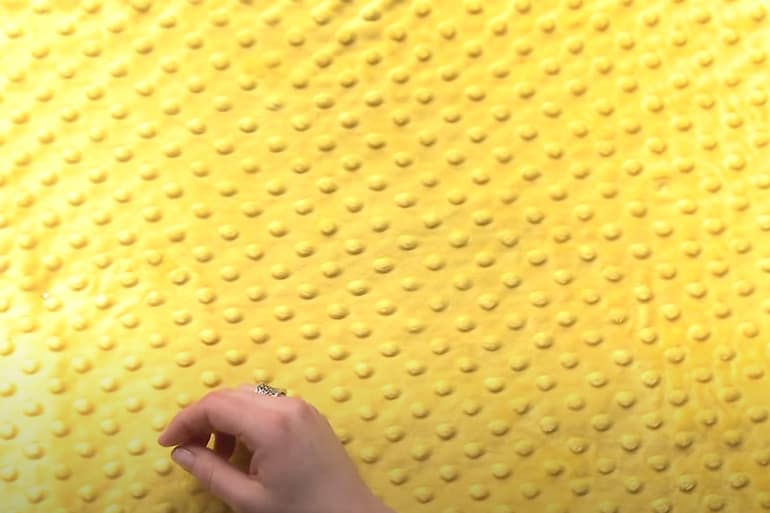 Minky fabric is a 100% synthetic fabric widely known for its softness, coziness, and Hypoallergenic properties.
This fabric is one of the several non-toxic synthetic materials and is so safe that it is used in making baby blankets and other accessories.
Now that you are sure Minky fabric is safe, I know you are probably considering using it for your next project and wondering.
Is Minky fabric hard to sew? Read this guide for all you need to know about sewing this super soft fabric.
What is Minky fabric?
Minky fabric is a plush fabric made from 100% polyester used to make baby clothing, baby blanket, and other accessories.
This fabric is hypoallergenic, soft, sturdy, lenient, versatile, lightweight, and beloved to share close properties with fleece fabric (another 100% polyester fabric).
Are Minky fabrics hard to sew?
Yes, it is hard to sew Minky fabrics. Minky is a Velvety textured fabric with a pile that gives the fabric a little raise. Therefore, when sewing this fabric, the regular presser foot will be rubbing against the presser foot, making it difficult for sewers to sew a seam without being interrupted.
How are Minky fabrics made?
Minky polyester fabric is made by mixing the polymer, petroleum, dyes, and chemical and then fusing them under intense heat and pressure before they are spun into tiny sulky threads that will be woven into fabrics.
Where do Minky fabrics come from?
Minky fabric is produced worldwide because as long as you have the technology and the materials, it can be quickly produced.
However, this polyester fabric's largest producers span across countries in Asia, China, the United States, and the United Kingdom.
What are the different types of Minky fabrics?
Sherpa Minky
This Minky fabric type is widely used in making liners for warm-weather clothing and accessories.
Not only that, but because of the incredibly soft texture of the fabric, it can be used to make a blanket that will make the bed look elegant or folded over a chair as decoration.
Minky Rose Swirl
This Minky fabric type is widespread and can be used for making long blankets suitable for large families.
This fabric can be readily recognized with its rose-like swirling patterns beautifying its surface.
Smooth Minky
This Minky fabric neither has a seam nor is textured, which means you will be provided with comfort without any fabric texture to rub against your body.
You can use this Minky type for bedding or decorative purposes as long as you know your craft.
What is Minky fabric good for?
Minky fabrics are easy to launder, soft, and warm, and therefore are suitable for making soft toys, bibs, bootees, seat covers, and garments. It can also be used in making household items like pillows, throws, blankets, and quilt backing.
Tips on how to sew Minky fabrics
The first thing you have to realize before cutting or sewing Minky fabrics is that it is a knitted fabric and, therefore, stretchy. So to prevent unnecessary shifting of the fabric when cutting, you should always mark the fabric. To do this, you can lay the fabric flat and make a cutting line on the other side of the material with a maker or ballpoint pen.
After marking the lines, you can now start to cut the fabrics using scissors or a rotary cutter, depending on the Minky fabric you are working with: a rotary cutter will be ideal for the regular Minky fabric, and a crafty knife will be better suited for a Minky fabric with high pile.
Cutting Minky fabrics can make a mess of the fabric. Cleaning this mess will be ideal and make working with the fabric much more straightforward. Clean the mess with a damp washcloth and toss them in the dryer to dry.
Just as the stretchiness of the Minky fabric can affect you during cutting, it can also make sewing quite tricky. To prevent this, hold the center of the edge of the fabric with a pin and on the outside of the edge.
When sewing, make use of polyester thread and a long straight stitch and remember to adjust the presser foot of the sewing machine if you notice the fabric is not feeding as it should.
The best needle to use for the Minky project is 90/14. This is because it is suitable for stretchy fabrics. Therefore, you will not have to deal with skipped stitches and will avoid making holes in the fabric.
Using a walking foot for sewing Minky fabrics is advisable as it can help hold the fabric while you focus on other things and lift it when you start to sew.
Do I have to wash Minky before sewing?
No, you do not have to prewash Minky before sewing the fabric. Minky fabric is made from 100% polyester.
Minky fabrics can be cut or sewn without being prewashed. Although if you are using it with other materials like linen or backings, you may then consider prewashing them to prevent distortion of the Minky fabric.
Why is Minky so expensive?
Well, Minky fabric is bound to be expensive because of certain qualities and circumstances around the fabric. Here are a few of the reasons:
It is a highly demanded-fabric.
It is made with good quality material.
It is highly durable.
It is a rare fabric.
Shipping cost, especially for a Minky blanket, is usually very high.
The marketing and production costs are also very high.
References: