When you are out in the market shopping and looking into dresses sewn in different styles and designs, you may think of sewing some dresses by yourself.
This question comes into almost every mind but they don't proceed further as they don't even know where to start. Some people also don't entertain this idea of sewing dresses as they think that sewing is not an easy job and only professionals plus experienced people can do this, but you know that every professional was once inexperienced and didn't know anything about sewing.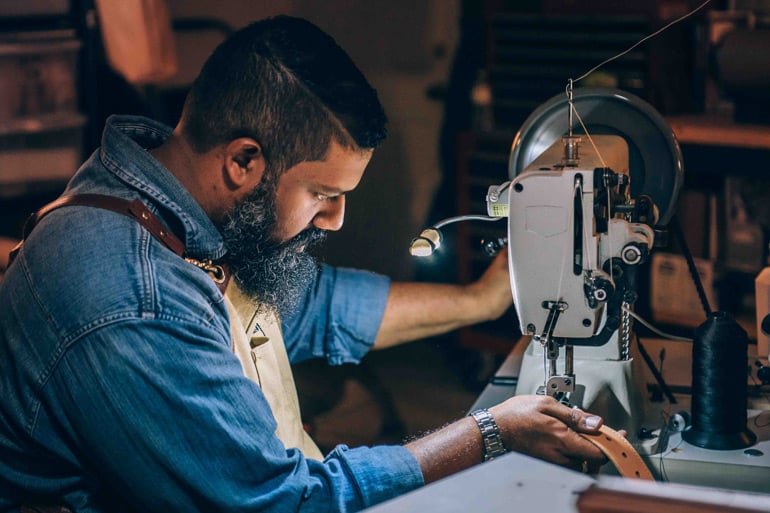 If you are a person who is not stepping forward because of questions like, is sewing a dress hard? Is sewing a dress by yourself worth it? Can you learn sewing? Then you should just read this article till the end. This will tell you how hard or easy sewing a dress is along with tips to learn sewing and become good at it.
In the end, we will discuss some of the major mistakes that people make while sewing. So, without talking much, let's dive into the article.
Is sewing a dress difficult?
Sewing a dress is not as difficult as most people think and some sewists get near-perfect results on your first try as well. Sewing a dress is probably the easiest thing as compared to sewing any other items on a sewing machine but there are some factors to consider.
You need to choose the most compatible fabric which is easy to handle and sew it in the easiest style. Don't step into complex designs on your first try. If you go for a complex design, sewing can be extremely difficult and you may lose the heart to do it again as well.
Experts have a saying that just like a person can learn to bake a cake and make a pizza, they can also learn sewing within a matter of a few days. You should focus on one thing at a time and move on step-by-step to reach the expert level.
Is it hard to sew your own clothes?
You may feel stress while thinking of sewing your own clothes as it seems like a difficult and risky job. This is fine but if you look into sewing clothes from a different perspective you can realize that it is not that difficult as well.
All you have to do is take multiple pieces of fabric cut in different sizes and shapes and then stitch them together. You may start by sewing doll clothes and once you know the structure, go for your big dress.
What are the hardest fabrics to sew?
As fabric differs in terms of stiffness, flexibility, stretch, softness, smoothness, and many other factors, some materials are a bit tough to sew as compared to others. Below is a short list of the hardest fabrics to sew, especially if you're new to sewing.
Leather
Georgette
Voile
Organdy
Organza
Sweater Knit
Fleece
Sweatshirt Fleece
Cotton Lycra
Cotton Spandex
Cotton Jersey
Liverpool
Viscose Rayon
Cotton Interlock
Can sewing be self-taught?
Yes, sewing can be self-taught and most sewists learn it just like that. You only need to think that this is just a regular activity like any other such as cooking, baking, cleaning, etc.
Also, start with sewing simple stitches on a piece of fabric, then small clothes for dolls, and once you are good at these, move on to sewing dresses for a baby.
Going step-by-step in this way while practicing every step multiple times will make you learn sewing without risking any fabric or spending too much cost.
What things to sew as a beginner?
As a beginner, you should start with clothes that are easy to handle and do not include such patterns and styles. As said earlier, start with small things and move to bigger ones. Below is the list of some easiest things to sew that will help you level up from a beginner to an expert with enough experience.
Small decor items
Small hand carry purses
Gift card holder
Pillows
Storage bag
Face masks
Headbands
Doll's dresses
Doll's bed sheets
Bookmarks
Scarfs
Doll or baby blanket
Reusable sandwich bags
Curtains
Bed skirts
What do you need to sew a dress?
You cannot start the sewing process if you have a sewing machine and fabric because there are a lot of different tools and materials that play their part. Experts say that if a sewist doesn't have all essentials on the table, either he/she is not a good sewist or he/she is too lazy to work. Major things that are required to sew and finish a dress include the following:
Of course, a sewing machine
Fabric
Thread
Sewing machines needles
Hand sewing needles
Scissors
Pins
Clippers
Lead pencil, chalk, or a washable marker
Some additional items you may need include:
Iron
Measurement tape
Seam ripper
Pinking shears
Rotary cutter
Rotary mat
Dryer sheets
Parchment paper
Magnetic pin holder
Quilters ruler
How quickly can you sew a dress?
It depends on the sewist's experience, expertise, tools being used, type of fabric, style, and many other things. For example, sewing a cotton dress will take less time compared to sewing silk as the latter is too slippery and thus difficult to handle.
However, a regular dress can normally be sewn in between 30-60 minutes. This is not for the complex dresses as they require a lot of styles and designs which take additional time to get completed.
How much does it cost to sew a dress?
No one can give you a single figure on how much it costs to sew a dress because it varies depending upon various factors such as style, fabric, design, pattern, complexity, and much more.
However, it is claimed that most seamstresses charge somewhere between $25-$35 per hour. You may also be charged extra if you come back for alteration. So, we can say that you will spend a lot compared to the cost of sewing a dress by yourself.
How long does it take to learn to sew a dress?
If you start learning to sew a dress as a part-time activity, you will be able to learn almost all the basics within 5-7 days. Some people are very catchy in terms of understanding techniques and they can learn the basics within 2-3 days as well.
If you keep on working on your skills, you can easily sew your first ever dress within the first 10-15 days of your learning. However, it is just about learning, but you will require months to become an expert in sewing.
What skills are required to sew a dress?
Well, there are plenty of skills you need before you can efficiently sew a dress. You need to take sewing as a step-by-step process as it will make the learning process a lot easier for you. Firstly understand what sewing means and learn about it to get a better understanding of the word "Sewing" and its terminology.
Learn about the sewing machine and know the basic things needed to be able to use a sewing machine. Once you have done this, you should have the answers to the following question before you start sewing a dress.
What tools are required to start a sewing project?
How to load top thread on the sewing machine?
How to thread a sewing machine needle?
How to tie a knot?
How to use sewing scissors?
What type of needle and thread will be used for your specific fabric?
What type of stitch will be sewn on your fabric? (It is better to start with a straight stitch and with experience, dive into other types of stitches.)
How to use, align, and sew patterns and designs?
How to sew buttons and related items on fabric?
How to become good at sewing a dress?
You can only become good at sewing dresses through frequent practice and experience. However, below are some useful tips given by users and experts that can help you achieve this feat quickly.
Choose your fabric, style, design, and pattern after thorough research.
Choose the best suitable thread and needle.
Set sewing machine tension and stitch type by looking at the user manual.
Always cut the fabric in all required pieces before you start sewing.
Use measuring tape if you have any confusion.
Use pins, darts, or a lead pencil to put marks where required.
First, sew the overall structure.
Second, sew collars, necklines, etc.
Third, sew shoulders and arms.
Never take a rest before you sew a dress completely because then you will delay it more and more.
Top mistakes to avoid while sewing a dress:
People indeed learn from mistakes but it is even better to learn from other people's mistakes. We have gathered some of the most common yet extremely harmful mistakes that beginners make while sewing a dress. So, you should always avoid practices like:
Using the wrong-sized needle.
Using a damaged, rusted, or slightly bent needle.
Loading thread too tight or too loose.
Using the wrong thread for your particular fabric.
Using the wrong tension on your sewing machine.
Leaving seems unfinished.
Not ironing your dress' seams.
Using too low or too high heat while ironing fabrics.
FAQs:
Is it hard to design a dress?
Designing a dress is not as difficult as it seems and you can learn it at any age of your life.
All you need is paper, a lead pencil, fabric, a marker, scissors, a sewing machine, and most importantly, a brilliant idea in your mind.
Then firstly transfer the design in your mind on paper, and make customizations (if needed) to make it look just perfect.
Then start sewing a dress with the same design in a small size and if it looks great, go for it and sew a dress for yourself.
Is sewing a fun hobby?
Yes, sewing brings a huge amount of fun when you try new designs, patterns and styles while sewing dresses. When you complete a dress in a unique design and it looks just as you imagined, this is the best feeling you can ever get as a sewist.
It may feel dull at the beginning but with time and experience, sewing will not only become a fun activity but can be a source of earning as well.
Can I learn sewing online?
Yes, you can learn online and it is the easiest and most efficient method as well. You can watch videos, pause them wherever you want, and look closely to learn every single thing.
There are some paid courses as well that will give you proper lectures, homework, and then projects which give an experience and learning almost as you get from offline sewists.