Most people usually think that sewing is just a regular activity that does not include much tweaking or isn't versatile. This is completely a wrong assumption because there are plenty of methods, techniques, and procedures that can help you make different kinds of clothes, designs, patterns, and styles to make your fabric beautiful, attractive, and unique. Indeed, you cannot learn everything in one day and you will have to go with the flow but you need basic information to get started.
Talking about different techniques, embroidery is a word heard very often when it comes to sewing. It's a great technique to make your fabric look unique but people usually wonder, is sewing and embroidery the same?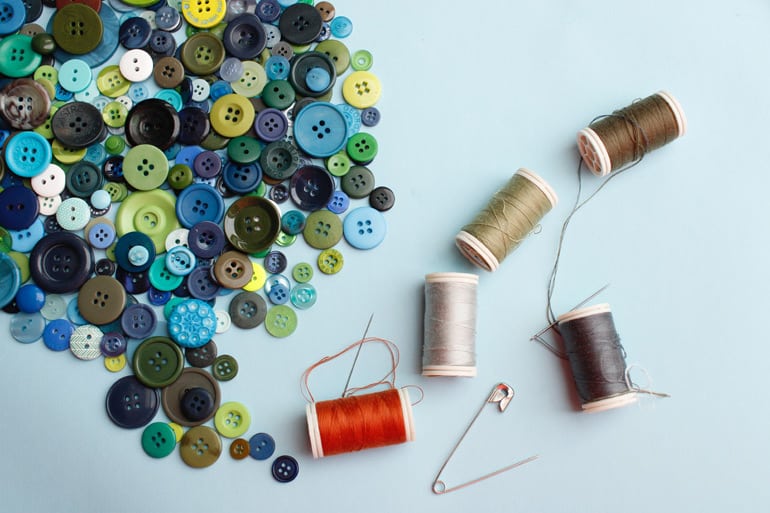 Just continue reading this article as it will tell you the difference and similarities along with a lot of related information as well. In the end, we have also gathered and mentioned a list of the best sewing and embroidery machines on the market.
Are sewing and embroidery the same?
As far as major equipment is concerned, sewing and embroidery are the same as both these techniques require needles, threads, and fabrics to make designs.
Other than that, sewing and embroidery are completely different techniques but are almost equally important in the clothing industry.
In simple words, sewing is the process of stitching different cut parts of the fabric using thread and needle to give it a proper structure or shape as a shirt, trousers, top, blouse, or any other thing.
On the other hand, embroidery is a crafting technique that is used to make designs and patterns on the fabric to make it look good and unique from simple dresses.
Is embroidery harder than sewing?
Simply by looking at the procedure of sewing and embroidery, you can easily realize that embroidery is a lot more difficult to do as compared to sewing. Sewing includes techniques that are not much difficult to learn.
Once you know the road map of stitching fabric into a specific structure, you can do this without any major effort on sewing machines. The techniques used to embroider a fabric require a lot of focus, skills, and time. Also, you may face new challenges with each new design you are trying to embroider.
The difference between sewing and embroidery:
SEWING
EMBROIDERY
Regular sewing is a constructive skill.
Embroider is like crafting, designing, and decorating art.
Sewing is done by stitching the edges of the fabric.
Embroidery is done by making raised patterns on fabric.
Sewing is used to give structure and shape to fabric pieces of different sizes and shapes.
Embroidery is done to make sewed clothes more functional, attractive, unique, and beautiful.
Thinner threads are used for sewing projects.
Thickers threads are used for embroidery purposes.
Regular size needles with sharp tips are used for sewing purposes.
Long-size needles with narrow but a bit stretched eye are used.
Sewing is a bit cheap thing to do as you need regular needles and threads.
Embroider is considered expensive as it requires special needles and threads.
Sewing can make different kinds of garments such as shirts, tops, trousers, blouses, pants, etc.
Embroiders can make different patches such as company badges, school badges, bags, designs, etc.
Sewing and embroidery can be done either by hand or using a specified machine.
Can you do embroidery on a sewing machine?
Yes, you can do embroidery on a sewing machine quite efficiently. You simply have to think of a design and move the fabric under the sewing machine's needle. Just make sure that the needle is stitching in the pattern that you want and you are all good.
One thing to note here is that doing embroidery on a regular sewing machine makes it even more difficult while it may not look as attractive as embroidery done on an embroidery machine or by hand.
Can you do embroidery using a sewing needle?
Yes, you can use a regular sewing needle to do embroidery as well. It is known that embroidery needles are a bit different especially when it comes to their size and tip but sewing needles can also help you out.
Although it is difficult to embroider using sewing needles, sometimes the best option is to use such needles. For example, people prefer sewing needles while embroidering on jeans, leather, or related fabrics.
Can you do embroidery using sewing thread?
Yes, you can use regular sewing thread to do embroidery. Just know that embroidery is a technique of making designs and patterns on your fabric which can be done in any way, using any thread.
However, the process, look, and the result may differ as the sewing thread is thinner than the embroidery thread. So, we can say that you can use thread of any kind, the only thing is that it can make the design in your desired manner and look beautiful with the fabric's overall look.
What can I do with an embroidery machine?
Just like the embroidery technique is versatile, embroidery machines also bring a wide range of opportunities for sewists. Simply by buying a high-quality embroidery machine, you can:
Knit
Create designs
Embellish patterns
Personalize fabrics
Decorate items
Beauty cushion covers
Add buddies on bed sheets
Another good thing about owning an embroidery machine is that it is not limited to only work on small numbers of fabric. You have the option to embroider on any kind of fabric and clothing such as.
Knitted purses
Felted bags
Sheer overlays
Stretch knits
Leather
Best embroidery machines for beginners:
Although there are many options in the market, some embroidery machines stand out in the competition, and below is the list of those machines that come on top in the list of best embroidery machines. Some of these machines are embroidery specific while others come in a 2-in-1 category including the capacity of both sewing and embroidery machines.
Brother PE800 Embroidery Machine
Brother SE600 Sewing and Embroidery Combination Machine
Brother PE535 Embroidery Machine
Bernette B79 Combination Machine
Janome Memory Craft 400E Embroidery Machine
Brother SE1900 Sewing and Embroidery Combination Machine
EverSewn Sparrow X – Next-Generation Sewing and Embroidery Machine
Singer Legacy SE300 Portable Sewing and Embroidery Machine
Brother LB5000M Marvel Computerized Sewing and Embroidery Machine
Janome Memory Craft 9850 Sewing and Embroidery Machine
LB5000S Star Wars Computerized Sewing and Embroidery Machine
Is buying an embroidery machine worth it?
Without a doubt, buying an embroidery machine is totally worth your money. This single tool can add a lot of attractiveness to your clothes or any other items with the inclusion of artwork.
You can personalize and customize your shirts, cushions, purses, bags, houses, tops, bottoms, trousers, hand bands, decorative items, or any other thing without hurting your fingers to do it in the traditional way as people used to do decades ago.
What to do with embroidery once finished?
Mostly the stitches are done in a way that embroidery can be secured and it will not lose even after years of wearing. However, if you want to step up the process, you can make patches of embroidery once it is finished by cutting them in circles, squares, or any other shape you like.
Then you can use these patches on any fabric you like when needed without requiring any major time. Make sure you patch embroidery with the right kind of fabric as it will prevent the occurrence of fraying and related issues.
How long does an embroidery machine last?
An embroidery machine can last decades if you take care of it efficiently and maintain and repair it whenever required. A machine is a tool just like any other and you can repair it with small tweaking or at most, replacing a part. So, as long as the body of the machine is in shape, and you are taking good care of it, an embroidery can easily last 10-20 years if not more.
How long does a sewing machine last?
Sewing machines are made to last long so that people can take advantage of the money they spent on the tool. The brand of the machine, how you take care of it, and the condition in which the machine works play an important role in machine longevity.
The average age of a sewing machine ranges from 5-25 years. As said that it is an average, some machines of high quality may even live longer than 25 years while some may break within months if you don't use them properly.
FAQs:
Can you do embroidery without a hoop?
There is no doubt that embroidery with hoops makes the process easier and quite efficient as well but it is not one of the essentials. You can certainly embroider your fabrics in any design without requiring a hoop at all. Many people made DIY stands that keep the fabric flat in place, making it easy for the sewist to embroider without using a hoop.
Is embroidery an expensive hobby?
Embroidery is not an expensive hobby if you just do it by hand using a hoop, small piece of fabric, needle, and thread.
You can make many embroideries on fabrics without digging a hole in your pocket. But if you want to take this hobby to the next level, you will need additional tools that are expensive to buy and may require a power source as well, which will add to your costs.
Can you do embroidery by hand?
Yes, you can instead it was the only method used by people even a decade ago. People tie the fabric in a hoop and use needles specifically made for this purpose.
Some people may disagree but embroidery done by hand is as good and attractive as done on an embroidery machine.
The only drawback is that it is difficult, time-consuming, and may cause pain in your fingertips especially if you don't do it very often.