Every human being in this world wears clothes and all should know how to sew clothes or at least how to make stitches. When you finally decide to learn sewing, you look for ways. As this is the world of social media, you will find out that many organizations offer sewing courses and claim to teach you sewing within 1-3 months. This seems fascinating and quite easy as well but the questions are,
Are sewing courses worth it? Can you learn sewing after a sewing course?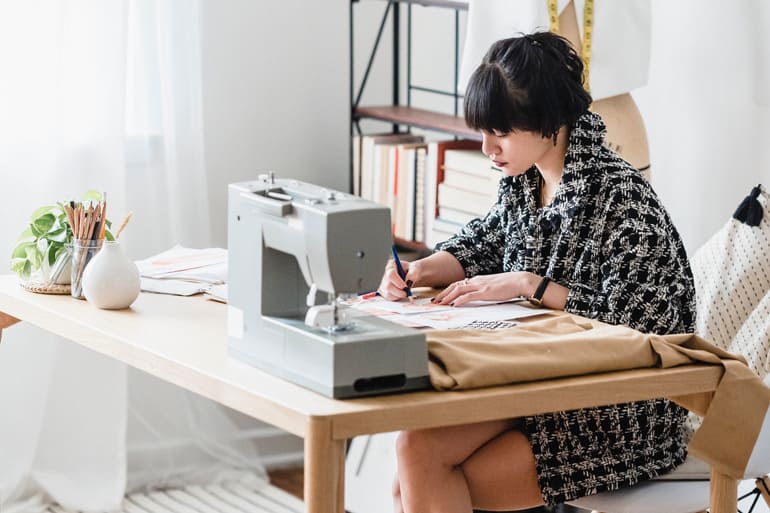 Well, you will find out soon and once you complete reading this article. You will have a lot of information that can give you a better boost to start learning how to sew.
In the end, we will also talk about some alternative ways that can be chosen to learn sewing efficiently. So, let's just dive into the article.
Are sewing classes worth it?
It mainly depends on you. Your financial condition, time, skill level, experience level, what you want to learn, and all such related factors will decide whether sewing courses are worth it for you or if will you just waste your time and money. Whether you can learn in a group class or require one-on-one lessons will also contribute a lot to making decisions.
The institute you choose will have a major impact so you should do thorough research before getting admission to a sewing institute.
However, if we talk in general, sewing courses are completely worth it and can teach you how to sew efficiently and easily.
Can you learn sewing on your own?
Yes, you can learn sewing on your own. Instead, about 70% of the seamstresses learn sewing by practicing it at home by themselves, without any guidance or courses.
All you need is to be consistent, patient, and hard-working and you will be able to get things going with a single or two youtube tutorials.
In a nutshell, sewing is not as difficult as you think and can be learned by anyone interested and motivated to do so.
What is the right age to start sewing?
You can start sewing at an age where you know that needle can hurt you if it gets in your danger. Experts claim that a kid as small as 4 years can begin to learn and start sewing under parents' supervision while 8-10 is the average age where kids can sew on a machine on their own.
Also, this is not a stone mark because kids are different in their brain functioning, so it is better to let them work under your supervision even if they ate 8 until you feel that they are good to go.
This is the minimum age limit however, the right and average age to start sewing range between 12-18 in most regions of this world.
Is it late now to learn sewing?
No age is too late to learn sewing just like it's never too late to drink water. You can learn sewing at any age unless you are unable to hold the needle and the thread firmly.
The only thing is that as long as your eyesight, hand-eye coordination, and concentration are great, you can learn sewing of any kind. There are people of 60+ age that learn stitching to repair their scarves or tops in old age when they cannot go out to the market for repairs.
How much time does it take to learn to sew?
It depends on how much time you give to sewing and how fast you are in learning things but on average, a person should be able to know all the basics of sewing within the 1st week of learning.
Some people complete their first project within 1-2 weeks of learning while others require about a month for that. The more time you practice sewing, the quicker you will learn different tweaks and tricks of sewing.
Are there any online sewing courses?
Yes, many sewing resources can be found online either as free tutorials or as paid courses.
These tutorials can easily give you all the basic information about sewing or regarding some specific sewing machine. This is great as you can start your journey without spending much on courses.
You may watch online tutorials and try them at home on your sewing machine. However, this method can give you a boost but may not bring the best out of you.
Therefore, it is better to just learn the basics online and go for an offline sewing course as it will help you learn better and faster in the minimum time.
What are the benefits of learning to sew?
Before we move on to the advantages of sewing classes, let's first talk about the benefits that come with learning to sew.
Everyone says that sewing is a skill that everyone should learn and below are some reasons that will tell you why.
Boosts self-confidence
Encourages self-discipline
Encourages wellbeing
Let you express your personality and individuality
Allow you to make customized dresses, gifts, and crafts
Make you proud of your projects
Reduces stress and depression
Make you do something beautiful and productive
Save you a lot of time
Saves money
Why should one take sewing courses?
Firstly, a person should take sewing courses to learn sewing and enjoy many benefits mentioned in the previous section.
Secondly, there are some major reasons why you should learn swing from courses instead of trying on your own.
1. To learn and expand knowledge
When you subscribe to a sewing course, you have the opportunity to talk to a lot of people that may have better knowledge of sewing and different sewing machines compared to you. You will be able to learn about new patterns, new designs, styles, stitches, and much more.
Apart from this, a sewing course will help you learn tricks of doing a 15 minutes task in 5-10 minutes.
All in all, even if you know a lot about sewing, a course will help you expand your knowledge while becoming a much better seamstress in the end.
This is the reason that experts claim that you should take courses no matter your level. If you are a beginner, you will come out as an intermediate tailor and if you are a middle-level tailor, you will come out as a pro.
2. To make connections with like-minded people
In a sewing course hall where you learn sewing, everyone will be interested in sewing and will be open to talking about different ideas. This thing encourages social aspects of the course and allows you to make friends and connect with people who think just as you do.
This is extremely beneficial because once you complete your sewing course of 1/3/6 months, you will still be able to talk to like-minded individuals and learn about new things that they have learned apart from that course.
What are the benefits of sewing courses?
Learn with a proper step-by-step procedure.
Learn and practice at the same time.
Learn from the experiences of other people.
Get new ideas, designs, patterns, and styles.
Daily assessment.
Try different brands and models of sewing machines.
You can ask questions whenever you want in real-time.
Make connections, network, and friends with like-minded people.
What are the drawbacks of sewing courses?
Introverts may not be able to learn efficiently.
You don't do any research by yourself.
You need to spare time for class.
Need to pay some amount for the course.
May need to travel as well.
May lose interest if there is some toxicity in the class environment.
What are alternative ways to learn sewing?
As sewing courses require you to spend some bucks and you need to take out the time to go to the tuition center, this learning scenario may not be best suited for you.
It doesn't mean that you should just quit but look for some alternatives that can help you efficiently learn sewing.
Below are the major alternative ways to learn sewing.
1. Watch online tutorials and practice
Youtube has become a go-to option to learn any skill no matter how small or high level it is. There are many and many tutorials on youtube that can guide you to sew clothes starting from mere basics to a top level. You can learn about each fabric and each sewing machine with a good searching technique.
However, just watching tutorials will not bring you anything unless you do a lot of practice as well.
Take one lesson and practice it until you are good at it. Moving on one step at a time will surely lead you to become a better tailor in no time.
2. Get help from "Learn to Sew Box"
This is a great thing for people who cannot spare time to go out or there isn't any institute that offers sewing classes in their region.
"Learn To Sew Box" is not just a box but a full bucket that includes all the basic tools required to start sewing from the beginning.
It saves you from the hassle of going out, buying fabric, and all other stuff for yourself.
Apart from this, the box also has a detailed guide that you can follow step-by-step to start as a beginner and end up as a good seamstress who can sew a dress and repair their clothes with ease.
The major things that come with "Learn To Sew Box" include:
3 fabrics
Dress patterns of your size
Matching thread
Detailed guide
Pair of scissors
A sewing machine
The good thing is that dress patterns are more marked, and the guide is so well explained that a person with zero knowledge about sewing can start their journey of learning and reach the other end effectively.
FAQs
Is it difficult to learn sewing?
People ask, is it hard to sew a dress? Well, the answer is, it depends. Learning to sew can be as easy as learning to wash a teacup and as difficult as learning computer programming. Learning to sew is extremely easy if you go step-by-step starting from very basic. But if you are not patient and just want to complete a sewing project, you may never be able to learn sewing efficiently. Patience and practice are two major factors if you want to learn sewing easily and yes, the more you practice, the easier sewing will become for you.