When it comes to sewing projects, choosing the right thread is almost as important as getting the suitable fabric or other material you will need for your project. And just as we have various types of fabrics, there are also several types of threads, with each having a specific purpose they are used for in sewing.
Nonetheless, you will still find some, like the Sulky thread, that can be used for several projects. This type of thread (Sulky) exists in various sizes and colors and can be used for many projects ranging from sewing down to making embroideries. This thread can also be used for making quilting, but people still wonder, is Sulky thread good for quilting?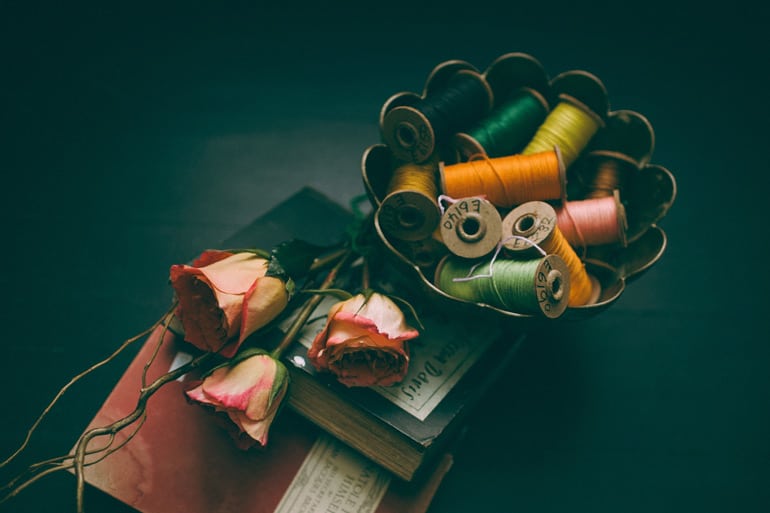 If you are also not sure whether or not Sulky thread will be good for your quilting project, read this helpful article.
What is Sulky thread?
Sulky thread is a rayon fabric or cotton thread designed to be used for embroideries but can also be used for quilting as well as other sewing projects. There are two significant variations of this thread – Solid and variegated colors. For the solid color option, you can choose from about 126 thread options, while the variegated type has just 66 color options.
Each of these color options comes in varying weight sizes of 30 or 12 and, in general, irrespective of your color choice, will give your stitching a warm, natural and soft look.
Are Sulky threads good for quilting?
Yes, the Sulky thread is suitable for quilting. Quilters can make use of Sulky thread for their quilting project: sulky thread has the right weight that makes it ideal for piecing as well as quilting. This thread type is made with one of the best high-quality viscose materials, which gives them the sturdiness and appeal that you may require in your quilting project.
If you are not sure which Sulky thread to buy, the best option to use for your quilting project is the 0.004mm thread. This Sulky thread type does not fray, shrink, or fuzz.
What are Sulky threads used for?
Sulky fabrics are widely used for several sewing projects ranging from hand embroidery to overlocking, crafting, quilting, or embroidery.
What is Sulky thread made of?
Sulky is made from ENKA fibers which are considered by many as the viscose or rayon fabric with the highest quality around the world.
Where is Sulky thread made?
Sulky thread is made in Obernburg, Germany.
Who owns Sulky thread?
Sulky thread is co-owned by the Drexler brothers, Joyce and Fred.
Can you Cross stitch with Sulky thread?
Yes, you can cross-stitch with Sulky thread. If there's anything that has contributed more to the popularity of Sulky thread, it would be its versatility. This thread can be used for making a wide range of sewing projects, including cross-stitching.
Can you sew with Sulky thread?
Yes, you can sew with Sulky thread.12-weight cotton petite is a Sulky thread that can be used for any sewing application. This Sulky thread is heavyweight and comes in a variety of colors. A single strand of this thread has the same thickness as 2 strands of regular embroidery floss.
You can also use any Sulky thread in general for your machine or hand sewing.
How to use Sulky thread
No special knowledge or trick is needed in using Sulky thread, just position the silky thread cone the standard way and use it as usual. If your Sulky thread is small or king-sized, make use of the spool holder on your sewing machine. The thread should pass through the back of the spool and then over it and unto the tension area.
Is Sulky thread polyester?
Yes, Sulky thread can be made of polyester. Although it is more common to see Sulky thread made of Rayon or cotton, however, they are also made of polyester. Sulky thread made from this fiber is usually lightweight and specially made for machine embroidery. They also come with cotton bobbin thread and invisible monofilament thread.
Is Sulky a good thread?
Yes, Sulky is a good thread. If you have a sulky thread, you don't have to worry about looking for a thread that can satisfy your sewing or embroidery, or quilting needs. This thread will give you a fantastic sewing experience as they are less likely to shirk or fray in the middle of a project.
Are gutermann and sulky the same?
Yes, Gutermann and sulky thread are the same. Just like sulky thread, owned by Joyce and Fred Drexler, Gutermann, which is an affiliate company of Elevate textiles, inc., also produced Sulky thread as part of their specialty machine embroidery thread line.
What weight is Sulky thread?
Sulky thread exists in a variety of weights, but you will see them mostly in 12w to 30w.
Tips on how to quilt with Sulky thread
Make sure to use the right sewing machine needle size. I said earlier that the best Sulky thread for sewing or quilting project is 12-weight Sulky thread. If you are using this thread, the best needle to match with it is a 6/100 or14/a 19 topstitch needle.
Make sure to use fine-weight thread in the bobbin. Use a 50-weight cotton thread in the bobbin that has the same color as your Sulky thread.
In case the weight of your Sulky thread does not match the one in your bobbin thread (just as it is here, 50w. to 12w.), there will be a problem with the tension. Change the upper tension to make uniform stitches on both the back and front of your work.
References: