The fashion industry is full of complicated terminologies that you can't help but wonder if new terms are being manufactured every day. There's always a word for every action, tool, or component. The most interesting part is that you cannot readily decipher the meaning of these terms by understanding the individual word that is combined to form the term.
One such word is the fat quarter. Except you are a professional sewer, I can bet you are already racking your brain trying to figure out the possible meaning. But my advice is, don't, it will be fruitless. Why stress yourself anyway since this article discusses in detail "what is a fat quarter in sewing." Keep reading!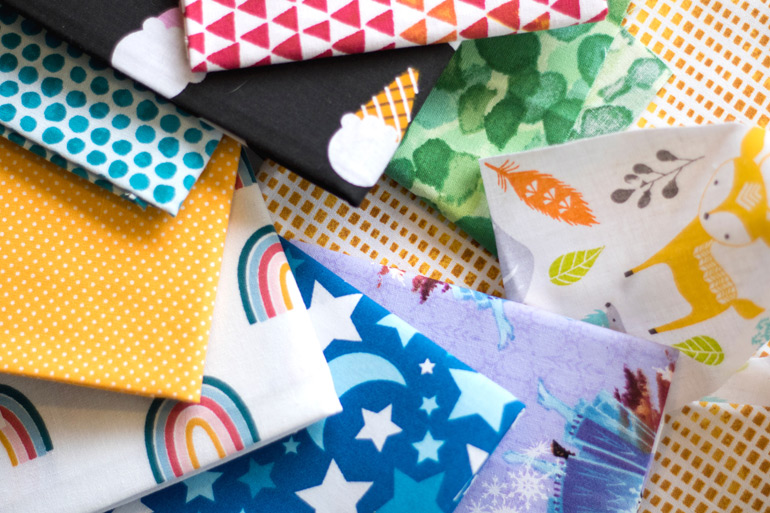 What is a fat quarter in sewing term?
A fat quarter is a standard way of cutting fabric, and it is a method commonly used for quilting materials. This method involves cutting half a meter of complete fabric width and then vertically dividing the piece into half.
As said earlier, quilting fabrics are usually used for this method because they can be cut into small pieces without affecting the bulky portion of the design.
What is the size of a fat quarter in sewing
The size of a fat quarter varies based on the width of the fabric. However, the general rule is that the size should be at least 18 by 22 inches, provided that it is cut by yard. If the fabric is cut by meters, it should be at least 50 by 55 centimeters.
What's a fat quarter in fabric
A fat quarter fabric is a one-quarter yard cut that usually measures up to 18 inches by 22 inches. To cut a fat quarter fabric, cut half a yard of the material, 18 inches along the fabric's warp, then cut the piece from the center into half.
What are 2 fat quarters in sewing?
2 fat quarters is also a method of cutting quilting fabrics. But compared to a fat quarter, there are bigger. With 2 fat quarters, you can sew one fabric bag and one cushion cover. You can even use 2 quarter fabric to make table mats, bottle covers, and many other items.
What is a fat quarter in cross-stitching?
Fat quarter in cross-stitching is quite different from sewing. In cross-stitching, the standard size of a fat quarter is "17 by 27". This fabric is usually colorful and adds beautiful dimension and bestowal quality finish to stitching projects.
What is a fat quarter in quilting fabric?
In quilting fabric, fat quarters are readily square-shaped fabrics that are put up for sale in quilt shops. This type of fabric allows sewers to save time they ordinarily would have spent on rotary cuttings. A fat quarter in quilting is equal to a quarter yard of fabric, only that the regular quarter yard is not cut along the width.
Where can I purchase fat quarters?
You can get fat quarters fabrics directly from fabric supply stores like The cotton patch, John lewis, and Etsy. Alternatively, you can also get them online by visiting fabric.com, fatquartershop.com, eBay, Amazon, liberty London, create and craft,
How many fat quarters do I need to make a lap quilt?
In order to make a lap quilt, you will need about 12 fat quarters.
Do I need to wash fat quarters before using them?
Yes and no because pre-washing a fat quarter's fabrics before use comes with its pros and cons. One of the benefits of washing fat quarter fabrics before use is that it can help to get rid of chemicals it has acquired from the factory. These chemicals can be harmful to people with sensitive skin.
One obvious disadvantage that comes with prewashing a fat quarter is that it will shrink after wash, which means the fabric will become shorter in length, and if you plan to buy the exact length needed, the material will not be enough for your project. Therefore, it is often suggested that you finish the edges before you can wash a precut.
What can I sew with a fat quarter?
There are lots of sewing projects you can do with a fat quarter apart from quilting. You can make headbands, Face masks, Clutch bags, Apron, baby bootees, infinity scarfs, dog beds, bow ties, etc.
How many fat quarters are there in a fat quarter bundle
There are about 25 to 35 bolts of fabrics in a collection of fabrics. Therefore, in a fat quarter bundle, you should also have up to 25 to 35 pieces of fat quarters.
How many fat quarters are there in a yard?
In the regular yard of fabric, you should have at least 4 fat quarters of fabric. The logic here is that since you cut a yard of fabric from a bolt, then you cut it both lengthwise and widthwise, then you should be left with 4 quarters.