In quilting, you will not only have to deal with complicated processes, as most people will describe the steps involved in quilting, but you will also have to know some terms. The most exciting part of these terms is that seeing them for the first time, you may readily assume that you know their meaning, but when an expert explains them to you, that is when you will find out about your ignorance.
This is not to say you are a dunce, but these quilting terms just know how to put you in your place. Take, for example, this term, Layer cake which will be explained here. Many people will assume they know the term because the individual words may be familiar.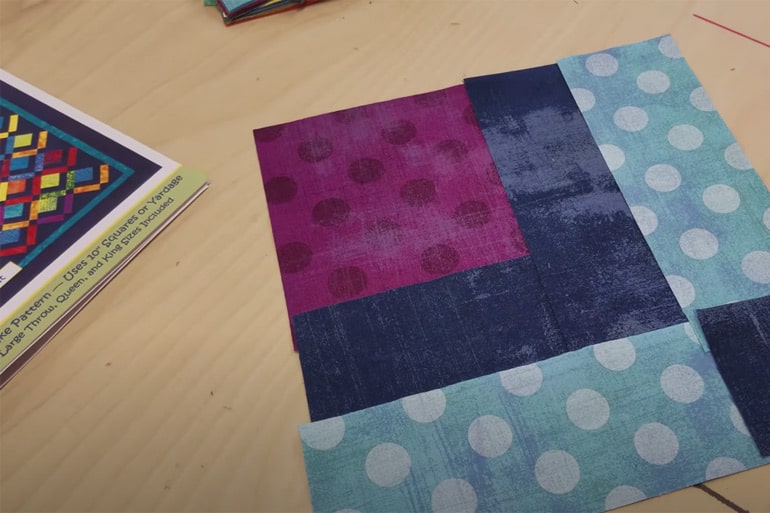 Ask these same people what is a quilt layer cake and watch how they will give you funny answers. This helpful article contains all you need to know about quilting later cake.
What is a layer cake quilt pattern?
Layer cake quilt pattern is used to describe a pile of 40 or more textiles that has been precut into a rectangular shape of about 10 inches each which are used for executing several quilting projects of different types. This arrangement or compilation makes the process of quilting (mixing and matching fabrics) faster and easier for quilters.
What's a layer cake in quilting terms?
Simply put, layer cake in quilting is used as a reference to an assembly of 40 to 42 fabrics from a particular fabric line which has already been precut into squares of about 10 inches each. This offers quilters the opportunity of working with a large piece of fabric for more diverse and elaborate design options.
What is a layer cake in quilting fabric?
Layer cake in quilting comprises about 42 squares of fabrics in total, with each measuring 10 inches by 10 inches in length. In this kind of arrangement, it is either you have 42 squares of different designs, or some designs will be repeated, which may reduce the total number of fabrics in the layer cakes to maybe 40.
What can you quilt with a layer cake?
With layer cake, you can make so many quilt patterns and designs. The list below contains 10 of the easiest and most common patterns you can make with your layer cake.
Candy swirl quilt pattern
Coin quilt pattern
Chevron quilt pattern
Pinwheel layer pattern.
On-point quilt pattern
Frame quilt pattern
Rail fence quilt pattern.
Peaches cream quilt
Jolly pinwheels
Layer cake custard.
How big of quilt will a layer cake make?
With two 42-piece layer cakes, you should be able to make a quilt of about 85-inch square provided that each piece is 10-inch square and has a layout of 9 by 9. You can add some sashing between the squares to make a queen-size quilt.
What does a layer cake quilt look like?
A layer cake quilt is not a unique quilt pattern, so it can be hard to say specifically what they look like — the term is a name for a precut type. Nonetheless, you can still describe the look of layer cakes as scrappy since they usually have several different coordinating fabrics.
What is the difference between a charm pack and a layer cake?
Both layer cake and charm pack are different names for different precut types used in quilting, but there is one major difference between these two precut types: the charm pack is a smaller version of the layer cake. The layer cake is made up of 10-inch by 10-inch precut fabrics, while the charm pack is made up of 5 inches by 5-inch precut fabrics.
How many pieces are in a layer cake for quilting?
Although the number of fabric pieces you will find in a layer cake may vary, in most cases, you will find 42 pieces of 10 inch by 10 inch fabric squares.
How to make a quilting layer cake
Place the rectangular shaped on a table and study each of them to carefully select which of the layer cakes matches well with another to give your project a different look.
When you start to quilt, make sure the fabrics are sewn together by a quarter inch. And also that they are sewn downwards vertically, making sure to monitor the flow of the process.
Why do my layer cakes have disorganized quilting look?
You don't have to feel bad if your layer cake has a disorganized look because it has nothing to do with your quilting skill level. In most cases, that is usually the final look of layer cake quilting, and this is because of the different layer cake textures which were used for the project.