Machine tension will decide whether you get the best sewing or have errors in stitches or any other aspects of the clothes. If you can get the best suitable tension for your sewing machines, you can get projects of near-perfect quality. This is because with proper tension, the thread will not have any loose ends and the stitches will be done right in place.
When sewing machines operate at the best tension, both upper and bottom threads will be properly aligned which is probably the most essential factor to ensure that your sewing is flawless.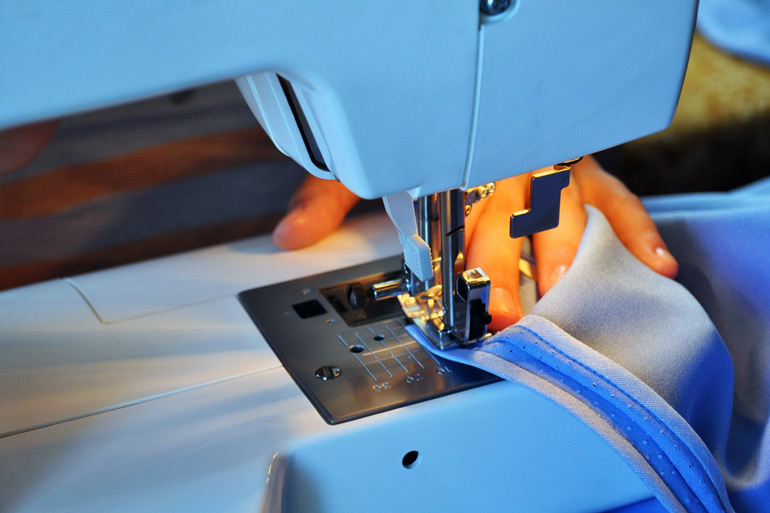 Just because this factor is quite complex and requires proper attention, people tend to look for sewing machines that have auto tension. Once they get to know that there are machines with an auto-tension feature, they start asking questions like: What is auto-tension on sewing machines? How does auto-tension on sewing machines work?
Well, we will go through all these and related topics to help you get rid of all confusion, once and for all.
What is automatic tension on a sewing machine?
Auto tension on a sewing machine is the feature or capability of your sewing machine which helps it to estimate the thickness and layers of the fabric and then calibrate the tension of thread accordingly without requiring your assistance.
This is a great feature as it allows the machine to control and better maintain the tension of upper and lower thread which results in better stitching and perfect sewing.
Such machines usually have sensors that assess different factors such as type of stitch, types of fabric, etc, and then set tension automatically at the best suitable level.
What is the default tension on a sewing machine?
On regular sewing machines, you have a dial that rotates from 0 to 9, which is the level of tension in the thread. Generally, for straight stitch sewing machines, 4 is the default tension while some machines also have 4.5 as their pre-set tension.
This range of tension is considered suitable for most kinds of fabrics and stitches, however, it is not the best value for all and you need to calibrate or change it with changing stitches of fabrics.
For example, people claim that 4 is the best tension level while sewing zig-zag stitches and 4.5 is better for straight and normal stitches. Still, these values can change depending on different fabrics and you need to ideally set the tension with each new fabric.
How does auto-tension on a sewing machine work?
Auto tension feature comes on almost all computerized sewing machines; they come with electric sensors that keep an eye on the fabric's thickness and pass this information to the system. The system then adjusts the thread tension to the perfect point after assessing all related factors.
In simple words, it can be said that sewing machines with auto tension have a controller that holds the upper thread and does not allow the thread to move freely, instead only feeding as much as required by the fabric or for the best quality.
How to check your sewing machine's tension?
You can simply check whether your sewing machine's thread tension is perfect or require any tweaking with a 6 step procedure.
Take a small piece of fabric (3-5 inches would be enough) you are going to sew.
Sew a straight stitch on the fabric from one end to the other.
Now hold and pull the ends of the straight stitched line until the threads break down.
Take a look at the other end and if the stitches on opposite ends are broken at the same points, you don't have to change the tension.
Start sewing.
However, if stitches break at different positions, tweak the tension and go through the process again from steps 2-4 on the same piece of cloth.
This process is only required for manual tension control machines as automatic tension sewing machines will set the tension perfectly for you without disturbing you at all. However, you may check it for your satisfaction.
What happens if you increase tension on a sewing machine?
As you know tension is the intensity of force by which your thread is pulled while sewing. If you increase the tension on a sewing machine, the thread will get tighter and will result in tighter stitches on the clothes.
Make sure you don't just increase the tension to sew tight stitches because it is not how it works. You need to consider all other factors just as fabric type, stitch type, etc but if you have an auto-tension feature, you just put in the fabric and sensors will get the job done for you.
Difference between manual tension control and automatic thread tension control?
| | |
| --- | --- |
| Manual Tension Control | Automatic Tension Control |
| In manual tension control, you have to assess all the factors and then decide the best suitable tension to be set for your thread. | In automatic tension control, the machine estimates all the things using its sensors and then sets the perfect thread tension. |
| You may have to change the tension every time the thickness of fabrics changes. | You don't have to worry about your fabric's thickness or thread type. |
| Once you have gotten enough experience, manual tension control may feel more accurate and satisfying. | Auto tension is accurate but some people just don't get satisfied and they double-check the tension using clothes that wastes their time. |
| You don't have to change tension as long as you are working on the same fabric. So, once you are done setting the tension, you just have to sew. | Sensors will always keep focused on fabric thickens, stitch type, and thread type. So, you don't have to worry about anything at all except for your sewing. |
What is the biggest advantage of having auto-tension on a sewing machine?
Probably the biggest advantage of having an auto-tension feature on your sewing machines is that you get near-perfect, if not the perfect stitches on your clothes. This thing not only brings out the best in you but saves a lot of costs, time and stress as well.
The other major benefit would be its time-saving characteristic as you do not have to waste time on checking or doing the calibration as it all will be done automatically by the machine itself.
Best sewing machines with automatic tension features:
There are many brands and each brand has a large collection of machines. It is not a good idea to mention all those machines that come with an automatic tension feature.
This is why below is the list of some of the best sewing machines (not in order) with auto tension features.
These machines have high ratings on their selling pages or Amazon and have been appreciated widely by their users.
Brother Innov-is F480 Sewing & Embroidery Machine
Brother NX650Q Electronic Sewing Machine
Singer Quantum Stylist 9960 Computerized Portable Sewing Machine
Singer 2277 Model Sewing Machine
Brother Innov-is NV1800Q Sewing Machine
Janome Atelier 3 Sewing Machine
Bernina 475 QE Sewing Machine
Elna eXcellence 680+ Sewing Machine
Bernina 435 Sewing Machine
Bernina 480 Sewing Machine
Janome Atelier 6 Sewing Machine
Husqvarna Topaz 25 Sewing & Embroidery Machine
Pfaff Creative 3.0 Sewing & Embroidery
FAQ:
What should be the tension on my sewing machines?
4 to 4.5 is probably the best suitable tension for most of the fabrics and stitches. However, the tension on your sewing machine is not standard as you have to decide this factor by assessing the type of fabric, type of stitch, type of thread, and much more.
The operating condition of your sewing machine also plays a role. So, we cannot give a single value to be used as set tension instead you need to decide what is best by trial and error.
What is the best sewing machine, manual or electric?
It depends on what kind of sewing activities or projects you do. If you are going to use a sewing machine at home just for simple sewing projects or regular quilting while using the regular range of stitches, going with a manual sewing machine would be great.
However, if you do some complex projects that require a high level of accuracy as well as a wide range of stitching options then an electronic machine is best and probably the only suitable option for you.
References: