The fashion industry is populated with different types of fabric, and no matter what project you want to execute, there will always be a material to satisfy your fabric need. However, while some of these fabrics are very popular, others are merely existing, with only a few people knowing about their existence and purpose. One of them is the muslin fabrics.
Even though Muslin fabric can be used to serve many purposes ranging from dressmaking to quilting, home decor, cleaning, and so on, a lot of people still ask, what is Muslin fabric? When they hear about the fabric, some even think the fabric is extinct! Don't worry. You will get to know all the information you need about this unique fabric made of 100% cotton.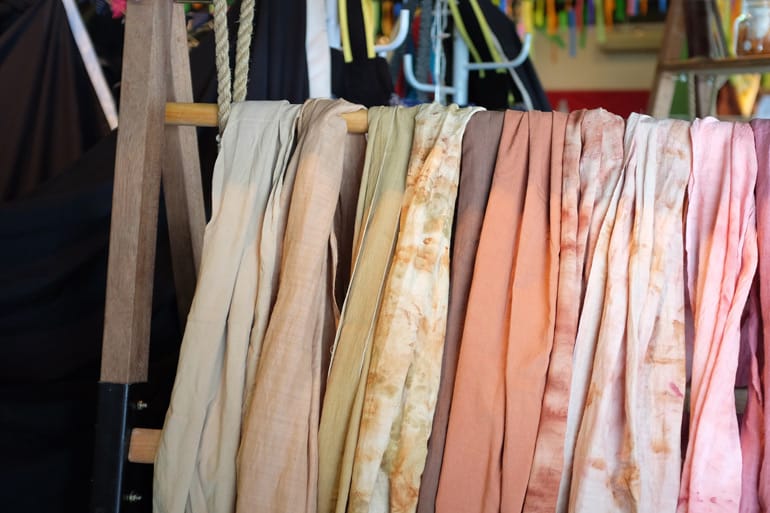 What are Muslin fabrics?
Muslin fabrics are cotton fabrics that are loosely woven together. This fabric is made by alternating a single weft thread above and underneath a single warp thread. There are several types of this fabric which include; sheeting, mull, swiss muslin, and gauge.
What is Muslin fabric used for in sewing?
Quilting
As a quilter, you will agree with me that cotton fabrics top the list of popular fabrics among quilters because of how easy they are to work with. Muslin fabric is made of 100% cotton, so it will also make an excellent choice for your quilting project, especially the backing.  
With that said, you should know that Muslin varies in quality, and therefore, you should only go for fuller muslin-like sheeting.
Cutting patterns
Before making patterns and cuttings on your final fabric, you can experiment on Muslin fabric as a test sample. This is because compared to most other fabrics, Muslin fabrics are usually very cheap and will be more cost-efficient if used as a template for a mock-up design rather than you wasting money on pricy fabrics in case of error.
Working first with several prototypes will allow you to master your pattern before they are transferred to your final fabric, and Muslin fabric can help you to achieve that.
To make light clothes
Most tailors and designers don't use muslin fabrics as final garments except if it is of high quality. Hence, if you have Muslin fabrics of high quality, they will be ideal for making light clothes like breathable underwear for babies like petticoats or underlinings for sleepwear like pajama pants. You also use them to make breezy shirts, dresses, and skirts for hot weather.
What is Muslin fabric used for babies?
1. It helps babies with sensitive skins
Muslin fabric is soft and comfy and will make an ideal material for your baby swaddle and blanket, especially when they have sensitive skins. Instead of using thick, scratchy materials that could cause heat rash due to overheating, use more breathable muslin fabrics and light. Muslin fabrics provide babies with a warm and free flow of air.
2. They ensure that baby stays clean
No matter how adorable our babies are, they can also be messy sometimes. Fortunately, with Muslin items at your disposal, you can immediately clean these messes, and the stained surface will be restored like nothing ever happened. This is because muslin fabrics are naturally absorbent, and therefore, with Muslin burp cloths, you can easily clean food or drink spill, drool, or even runny nose since they are not irritating to sensitive skins.
3. It keeps babies comfortable
Muslin fabrics, in general, are very soft and the most interesting about the fabric is that they may get softer the more you wash them, so you might wanna take cleaning them seriously. With Muslin swaddle blanket, your baby will be kept warm and cozy all night long in their sleep.
What is Muslin fabric made from?
Muslin fabric is made of unique cotton popularly known as phuti cotton, a loosely woven cotton fabric.
What is Muslin fabric called?
Several grades of Muslin fabrics are known with different names like Mull, Sheeting, Swiss, and Book.
What is Muslin fabric like?
Muslin is made of cotton, so they look much like cotton fabric. However, the only difference between the two is that muslin fabrics are much looser and have wider weaves.
How wide is Muslin fabric?
Natural Muslin made of 100% cotton is about 60″ wide, 0.27mm thick, and weighs up to 60oz per yard.
How is gauze fabric made?
Gauze fabrics are lightweight and are made by leno weave or plain weave. The weave structure is made in such a way that the weft yarns are arranged together in pairs. These weft yarns are kept in place by allowing them to cross before and after every single warp yarn.
How to use Muslin fabric
Apart from the specialized uses of Muslin fabrics discussed earlier, you can also use them for other things like; cooking, washcloth, home decor, breastfeeding cover, pram cover, upholstery, theater, and many more.
Is Muslin a good fabric?
Yes, muslin is a good fabric. If you need an ideal fabric for your printing and dyeing project, look no further than the Muslin fabric. Wanna know why? They are budget-friendly and plain. Asides from that, they are also very organic and healthy, which means you can use them safely around your house without the fear of spreading chemical residues.
Is Muslin fabric strong?
Yes, Muslin fabrics are strong. Do you know that Muslin fabrics have been around for about a century? Yes, they have come a long way. Do you know what's responsible for their longevity? It's nothing but their durability. The plain weave technique used for making the fabric reduced the tension on each thread, thereby making them strong and durable.
Is Muslin fabric absorbent?
Yes, Muslin fabric is absorbent. Ideally, Muslin is the last thing you will think of when shopping for materials to use for diapers. But the truth is, this fabric is naturally absorbent and will make an excellent alternative for your diaper or cleaning cloth. Muslin wicks away moisture easily and dries faster.