It may not seem easy to believe, but some synthetic fabrics are more durable than those made with natural fibers.
I also thought that until I had my first experience with Nuvella fabric. Omg! This performance fabric will leave you marveling over its outstanding properties.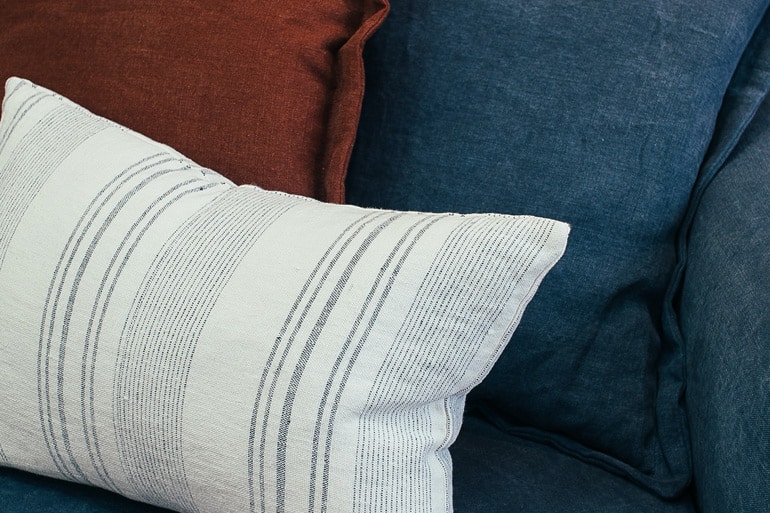 This fabric is designed to be durable, colorfast, and easy to clean, and if that's not enough reason for you to buy them, they are also eco-friendly. Isn't that amazing?
The quality of this fabric is so extraordinary that I feel compelled to write about it in this article.
In this helpful fabric guide, you will learn in detail about what nuvella fabric is, what it is made of, and every other general information about the fabric.
What are Nuvella Fabrics?
The novella is a solution-dyed fabric to withstand the wear and tear of indoor and outdoor furniture. What do we mean by solution-dyed?
It means that instead of applying dye to the top of the fabric, the color is a part of the fabric, which is why it is highly resistant to fading.
Asides from that, this fabric is resistant to fading; it can also withstand all weather conditions and is resistant to stains, mildew, dirt, and mold. No wonder the material is popularly referred to as a performance fabric.
What is Novella fabric made of?
The Solution dye is used in making Novella fabric. This solution protects the furniture by making it resistant to stain and preventing it from fading.
All water generated in the dyeing process is used up, plus the fiber used for the fabric is eco-friendly.
Is Novella fabric soft?
Yes, Novella is a soft fabric. Looking at how Novella fabric are made to tolerate even the most severe weather condition and other undesirable conditions like dirt, stain mold, and so on.
One may think that its surface will be made to be rough, which is not true because Novella is designed to have a soft texture, and this is due to the unique method used in finishing the fabric.
This method allows the fabric to appear smooth while also retaining its durability.
Is Nuvella fabric waterproof?
Yes, Nuvella fabric is waterproof, and Novella fabric is used worldwide as a fabric for indoor and outdoor furnishing.
What influenced this decision is that this fabric is resistant to most things that could easily damage furniture made from another type of fabric.
Nuvella is resistant to stains, extreme weather, dirt, mildew, and water.
Is Nuvella fabric good?
Yes, Nuvella fabric is good. The novella is a performance fabric, which means it is designed to withstand any pressure or traffic that would typically wear out other materials.
What's more, Nuvella is no ordinary performance fabric, and it is rated high among its contemporaries.
This fabric is not only stain or dirt-resistant but also resistant to fading and pilling, which is usually a cause of concern to many house owners.
Is Nuvella fabric comfortable?
Yes, Nuvella fabric is comfortable. Longevity is not the only benefit you will enjoy from using a Nuvella fabric for your indoor or outdoor furniture. They are also very comfortable to sit in since they are designed to have a soft texture.
Is Nuvella fabric durable?
Yes, Nuvella fabric is durable. Merely looking at the properties of Nuvella fabric, you will readily know that the material is designed to be stable.
They are designed for outdoor furniture is already an indication that they are made to be tough because outdoor upholsteries on several times will be put through conditions that will test their toughness.
Does Nuvella fabric fade?
No, Nuvella fabric does not fade. Novella fabric is 100% solution-dyed fabric.
Instead of just applying pigments to the fiber, the colors are made to penetrate the yarn of the fabric (they are built into them).
The coloring will not wear out no matter how much rubbing, cleaning, or the level of Kansas element they are exposed to.
Is Nuvella fabric machine washable?
Yes, you can wash Nuvella fabric in the machine.
Although Nuvella fabric is resistant to stains, sometimes, you may have to clean them, and whether such time arrives, you may decide to wash them in the machine or wash them with your hand.
Both options are effective ways of cleaning the fabrics.
How do you care for Nuvella fabric?
First, you must know that Nuvella fabric is stain-resistant, so you may not have to clean them every time.
However, sometimes, cleaning might become inevitable, and in such a situation, all you have to do is make a warm water mild soap solution and apply the solution with a soft-bristled brush.
A detailed explanation of how to clean the fabric will be provided below.
How to clean Nuvella fabric
For the best result, it is proper to know the ideal treatment for rigid and light stains on Nuvella fabric.
I will be providing information on how to treat both stains now.
Cleaning light stains
Firstly, remove excess moisture from the fabric by absorbing it with a paper towel or clean cloth.
Make a cleaning solution from 2 oz of mild detergent/soap and a gallon of lukewarm water.
Dip a soft brush or microfiber cloth in the solution and rub gently on the fabric's surface.
Rinse the treated spot thoroughly after the stain is completely gone.
Leave it to air dry.
Cleaning stubborn stains
Create a cleaning solution from a gallon of lukewarm water and a cup of bleach.
Dip a soft brush or microfiber towel in the solution and scrub gently on the stained area.
Rinse the treated spot afterward with water.
Leave it to air dry.
Is Nuvella fabric as good as Sunbrella?
Yes, Nuvella fabric is as good as Sunbrella. Quite often, both Nuvella and Sunbrella fabrics are compared together, and this is because they are both made with the same process, and this is why their properties are very identical. When it comes to water/sun resistance, durability, maintenance & care, Eco-friendly, and comfort, these two fabrics are at the same level.
The only difference between these two fabrics is the extent of their warranty: Nuvella fabrics offer a 1-year limited warranty on all of their products, while Sunbrella products often come with 5-year Limited Warranty, and this explains why the latter fabric is more expensive.
Is Nuvella fabric machine washable?
Yes, Nuvella fabric is machine washable. One thing about Nuvella fabric is that they are resistant to stains and every other outdoor element. This makes them one of the easiest fabrics to clean.
When the time comes for you to clean your Nuvella fabric, you can divide to wash them in the machine or with your hand. Be rest assured that whichever method you choose will result in optimal results.