If you ask several people their ideal fabric for clothing or upholstery design, a large percentage of them will tell you it must be made of natural fibre.
Although there are usually several cogent reasons for their choice, what these people have failed to realize is that there are some synthetic fabrics that are at the same level as most natural fibre fabrics in terms of quality.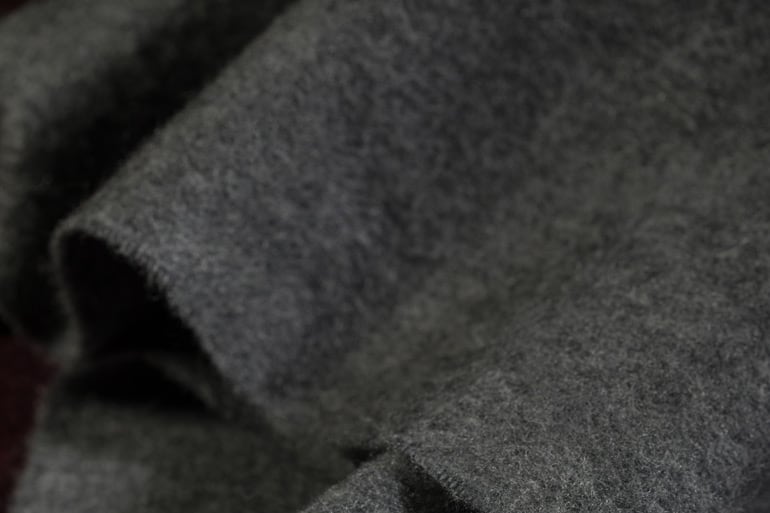 One such fabric is the Polar fleece fabric which is made from synthetic materials like nylon fibres or polyester.
Sadly, despite the many qualities of this fabric, not so many know what is Polar fleece fabrics.
Therefore, as a lover of synthetic fabric, I have chosen to write about this fabulous fabric in this helpful article.
What are Polar fleece fabrics?
Polar fleece is a special kind of fleece (a synthetic version of wool) that is made from nylon fibres or polyester.
This fabric is designed to have 2 sided piles, usually very durable, and would not even pill after several wears. Even though this fabric is light, it could keep you warm during cold weather.
What is Polar fleece fabric made of?
Polar fleece is essentially a polyester product— a result of processing recycled plastic bottles.
How is Polar fleece made?
The process of making Polar fleece involves the knitting of twisted yarns to form a fabric.
After that, the surface of the material is then roughened up with a wire brush to create the nap.
What is Polar fleece used for?
Polar fleece is used in making several clothing items, such as hoodies, sweaters, gym clothes, blankets, hats, sweatpants, jackets, cloth diapers, and other outdoor clothing.
Where is Polar fleece made?
The polar fleece was first produced in 1981 in Andover, Massachusettes, USA, by Malden Mills Industries.
Where can I buy Polar fleece fabrics?
You can buy your Polar fleece fabrics from Vogue fabrics.
This company offers a wide range of Polar fleece fabrics ranging from double-faced fleece to novelty polar fleece print, anti-pill polar fleece solids, and Chicago logo sports team fleece.
Is polyester the same as polar fleece?
No, polyester is not the same as polar fleece.
Even though polar fleece is made of polyester, it is not sufficient to refer to the fabric in general as polyester. This is because not all Polar fleece is made from 100% polyester, as some are usually blended with cotton to make them extra durable, warm better, and wick moisture better.
Which is the right side of Polar fleece fabric?
Typically on fleece fabric, especially one that is labelled "anti-pill", the wrong side will be smooth while the right side will have a slightly coated texture.
However, in some cases, both sides may appear smooth. You can tell the difference between both sides when cutting these fabrics.
When you cut your polar fleece fabric, the cut edge will spiral towards the wrong side, while the selvedge edge will spiral towards the right side.
Whereas in some situations, some manufacturers will put their name on the selvedged edge to indicate the right side of the fabric.
How wide are Polar fleece fabrics?
When it comes to the wideness of Polar fleece fabric, the first thing you have to know is that the length varies.
Some polar fleece fabric can be as wide as 150cm, while some can be 230cm wide.
Tips on how to sew Polar fleece fabric
When sewing Polar fleece fabrics, it is essential to make use of nap yardage requirements because this type of fabric has a brushed look that moves in a single direction. Also, make sure the fabric pattern is laid out in a single direction.
Make sure you can differentiate the wrong side of the fabric from the right side. If you don't know how to, gently pull the material along a cross-grain edge, the wrong side is the side where the fleece will curl too.
The raw edges of a polar fleece fabric do not fray, and therefore, you may not have to seam the edges of the material.
Make sure to use sharp scissors and new machine needles for polar fleece fabrics because the fabric may be hard on these tools.
Make use of polyester thread, and also make sure that the stitch length is a little bit large (between 3mm to 5mm).
Sometimes, polar fleece can be bulky and stretchy; therefore, it is advisable to reduce your machine tension while stitching the seams.
How do you wash Polar fleece?
Whether you are washing your Polar fleece fabric in the machine or you are washing them with your hand, the best way to clean them is to use cold water and mild detergent/soap or a delicate cycle for the machine.
Using any harsh cleaner like bleach can damage your fabric.
Also, when it comes to drying the fabric, it is best to let it air dry or in a dryer on the lowest heat setting. Ironing your polar fleece may harm the material.
Polar fleece pros and cons
Pros
It is great water resistant.
It is very durable and considered the most durable of all fleece fabric variants.
Polar fleece can be washed by hand or in a machine.
The insulation property of the fabric van remains intact even when it is wet.
It dries very quickly
It is an excellent alternative for people who are sensitive to wool fabrics.
Polar fleece comes in a variety of thicknesses; hence, it can be used for making different clothing items.
Polar fleece will keep you warm during winter.
Cons
Polar fleece produces static electricity, which could lead to the build-up of dirt, lint, or even pet hair on the fabric.
Polar fleece is made with plastic; hence, when washed, dried, or ironed with high heat, it is likely to be damaged.
Polar fleece is non-biodegradable since they are made with plastic that can be harmful to nature; hence they are considered none environmental friendly.
Polar fleece traps odour, which means if you are the type that sweats a lot, the fabric may not be appropriate for you.
Is polar fleece fabrics for babies?
No, polar fleece fabrics are not just for making baby clothes or blankets alone. Polar fleece is very soft, and therefore, they are very suitable for making baby clothes and blankets, but its usefulness extends beyond just that.
The fabric is also ideal for making sweatpants, cloth diapers, Jackets, or any other outdoor wear. If you want a fleece type that is specially made for babies, though, then you should go with microfleece. 
Can you iron Polar fleece fabrics?
Yes, you can iron polar fleece fabrics.
Polar fleece fabric can be ironed, but only on one condition; the iron must have a fleece or polyester setting. If your iron does not have these settings, it is advisable not to iron this fabric type at all.
Fortunately enough, although polar fleece may not be classified as a typical wrinkle-resistant fabric, it does not get wrinkled easily, so you may not even have to iron them between washes at all. 
Can you put Polar fleece in the dryer?
Yes, you can put polar fleece in the dryer.
Just before you toss your polar fleece fabric in the dryer, I want you to know that this fabric type cannot tolerate high or medium heat; hence, if you want to tumble dry them, it is best to put the dryer in a low setting to avoid damaging the fabric. If you would like to know, the best way to dry a polar fleece fabric is by air drying them.
Will polar fleece shrink when washed?
Yes, polar fleece may shrink.
If your polar fleece is made with a blend of cotton, then you should know that it will most definitely shrink. But yours is made of 100% polyester, then be rest assured that whatever the cleaning or drying method you use, the fabric will not shrink. Note, always avoid exposing your polar fleece fabric to heat.
How to sew polar fleece fabrics
Step 1 – Get your polar fleece fabric prepared 
The first step in sewing a polar fleece fabric is getting them ready by first prewashing them through testing them against colorfast and shrinkage. Also, you may need to determine the pattern choice that will be suitable for your project.
Step 2  – Cutting polar fleece fabrics 
Before you start to cut polar fleece fabrics, there are certain things you need to know.
Polar fleece fabric is not woven; hence the grain of the material may be difficult to see. The grain of this fabric is determined by the nap or the direction of the brushed texture of the fabric.
The wrong and right sides of the fabric
To know which of the sides of the fabric is wrong and which is right, cut a sample of the material, then cut it on the cross. The side that the fabric naturally curls to is the wrong side.
Only cut your polar fleece fabric with scissors so that the edges don't burr. And if your fleece fabric is thick, cut in single layers and not double.
If you are using the regular pins and they are slippering, change them to a safety pin or longer quilting pin.
Making marks on Fleece fabrics may not be as easy as on other materials because they have piles. Instead of using chalk, make use of tailors tacks or running stitches.
Step 3  – Stitching polar fleece fabric 
Polar fleece fabric can be stretchy, so it would be better to stitch along the curved area of the fabric. Use small stitches: stitches of about 3.0 in length and 1.0 in width.
Step 4  – Finishing seams on polar fleece fabric 
Although polar fleece does not fray, if you wish to make seam finishes, you can either zig-zag the raw edge or make use of a Serger.